A delicious and easy beef wellington recipe without mushrooms.
Discover a mouthwatering twist on the classic Beef Wellington with this recipe that eliminates mushrooms but retains the exquisite flavors and textures that make this dish legendary. By following a few simple steps, you can create a delectable meal that will have your taste buds dancing with delight. Begin by seasoning tender beef fillets with salt and black pepper, then sear them to perfection in a hot skillet. Next, transfer the fillets to the oven to cook through. While the beef is baking, prepare a flavorful sauce by combining red wine vinegar, Dijon mustard, Worcestershire sauce, and horseradish sauce. Pour this tantalizing mixture over the cooked steaks and savor the incredible taste. In just over two hours, you'll have a magnificent beef Wellington without mushrooms that will impress everyone at the table. Don't miss the chance to enjoy this delightful variation of a beloved classic.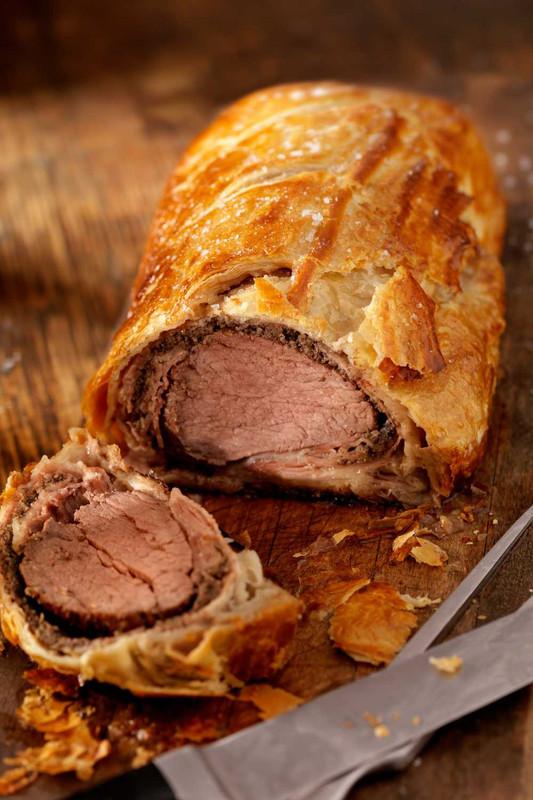 What is the Beef Wellington ?
Beef Wellington is a dish made from beef fillet coated in pâté (a type of paste) and duxelles (chopped mushrooms, onions, and herbs), then wrapped in puff pastry. The whole thing is then baked or sometimes grilled. Beef Wellington is a popular dish in the United Kingdom and Australia, but it can be found in other countries as well.
Why You'll Love Beef Wellington Recipe Without Mushrooms:
1

This dish is a hit and surprisingly simple to prepare. Impress your friends and family with its scrumptious flavor.

2

It can be cooked easily with simple ingredients.

3

The best thing about beef wellington is, it can be served as a main course and impress your friends and family.

4

This dish is also delicious as an appetizer.

5

You can customize it with seasonal flavors.

6

This is the idea from my side this recipe is great for lunch and dinner ideas.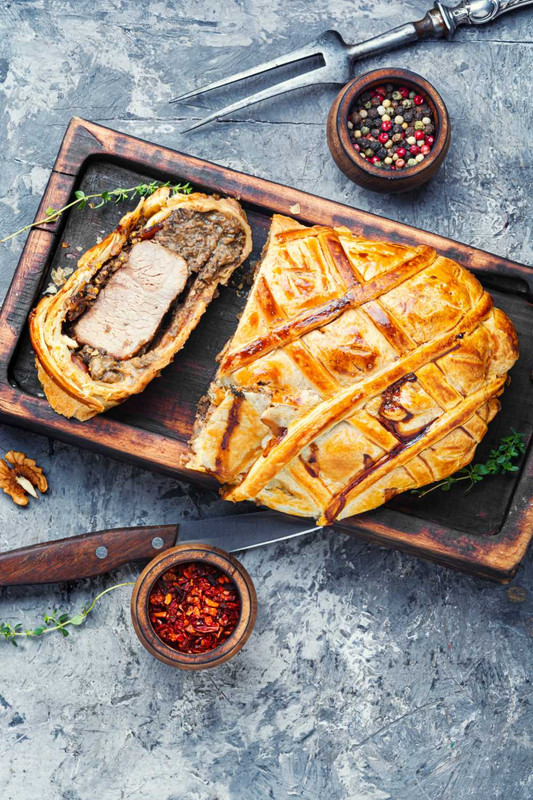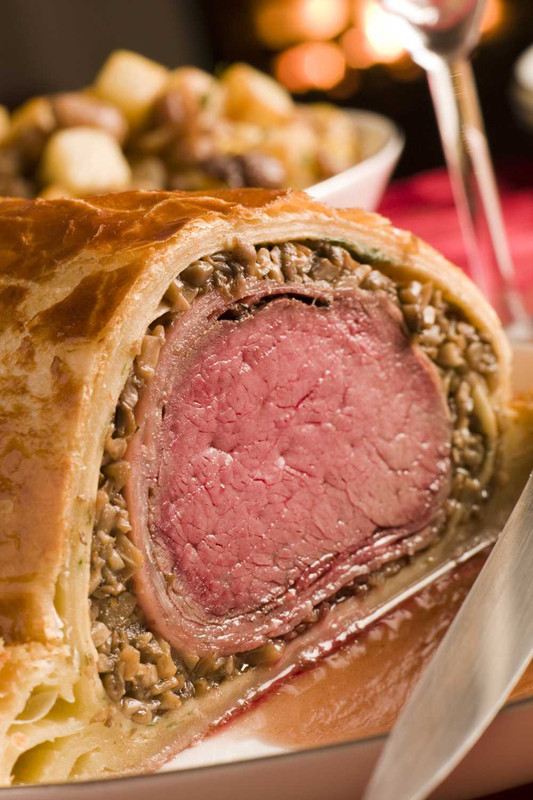 How To Make Beef Wellington Recipe Without Mushrooms:
1

First of all Preheat your oven to 425 degrees F. Season the tenderloin with black pepper and salt, You can also use butcher's twine to tie at 1-inch intervals.

2

Sear the tenderloin in a smoking hot cast iron skillet with 2 tbsp of olive oil, 2.5 minutes on each side. After searing, place it on a plate to rest.

3

Mix with minced garlic, mustard, and black pepper in a small bowl. If you feel the tenderloin has cooled, remove and discard the twine. Coat the beef with the mustard mixture and chill in the refrigerator.

4

Use the same skillet to heat the remaining olive oil over medium-low heat. Add in the onions and thyme and saute for 5 minutes before adding the red wine. Simmer for about 2-3 minutes, or enough time for the wine to reduce. Remove from heat and set aside to cool.

5

In the same skillet reheat the low flame in olive oil. Add the thyme leaves, and onion and saute for 3 to 4 mint once the color is golden brown now add red wine. once the red wine is reduced remove from heat and set aside.

6

On a cutting board, place a double layer of plastic wrap (2 ft x 1 ft). Top the wrap with a sheet of puff pastry dough. Cover the pastry with an overlapping layer of prosciutto, leaving 2-inch margins at the top and bottom. Finally, evenly distribute the onion mixture over the prosciutto.

7

Arrange the chilled beef tenderloin at the bottom of the prosciutto layer. Wrap it tightly by rolling, using the plastic wrap for support, and tucking in the edges. Trim any extra pastry if the seams are too thick.

8

After rolling, secure the tenderloin by wrapping it tightly in plastic wrap and twisting the ends to compress it. Chill in the refrigerator for a minimum of 30 minutes.

9

Put the beef on a foil-lined baking sheet and brush the pastry top with beaten egg. Make a few slashes on the top and sprinkle with a generous amount of kosher salt.

10

Bake for 45 minutes until the pastry is a golden brown color and the center of the roast registers 110°F for rare or 120°F for medium-rare on an instant-read thermometer. Set aside and take some rest once cool you can serve it with salad and rice.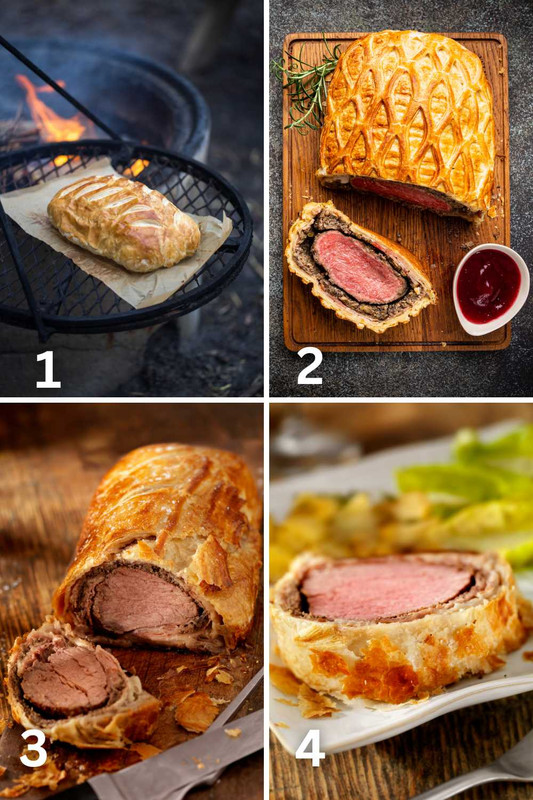 How to make Beef Wellington Recipe in Video :
Chef's Tips For Beef Wellington Recipe:
1

You can use a variety of puff pastry sheets. You can also use puff pastry sheets that you have frozen and thawed.

2

Since the meat is cooked in a bag, it will be very tender.

3

Mix the flour with the cold butter before adding it to the egg mixture. This is done so that the cold butter will not melt when you fry it.

4

Use fresh herbs and spices. Do not use dried spices.

5

Keep the puff pastry sheets rolled out while they are still hot so that they will not stick to each other when you cook them.

6

The beef wellington is a simple dish. The meat is cooked in a bag in the oven. When it is done, the meat is removed and served with potatoes and vegetables. This recipe uses lamb, but you can use beef or pork instead.
Serving Suggestions:
If you want to enjoy a balanced food you can serve this beef Wellington with roasted or steamed vegetables such as Crispy Roasted Potatoes, Buttery Instant Pot Cabbage, and Pesto pasta salad with vegetables, either mashed or roasted. A red wine or port wine sauce is a common accompaniment. Some also serve it with gravy or a creamy sauce such as Doner Kebab Red Sauce
Variations:
There are many variations of the beef Wellington recipe. Some people add different types of mushrooms or use different types of meat (such as turkey).
Others add different herbs or spices to the mix. You can also vary the type of sauce that you use.
Here is the list of variations you can use
Question & Answers for Beef Wellington without Mushrooms
How do you make beef Wellington without mushrooms?
You can make beef wellington without mushrooms by substituting another type of vegetable. Some good options include roasted vegetables, sautéed spinach, or caramelized onions.
What is the difference between beef wellington and beef bourguignon?
Beef Wellington is a dish made of beef tenderloin coated in pâté and duxelles, then wrapped in puff pastry. Beef bourguignon is a stew made of beef braised in red wine with bacon, onions, and mushrooms.
What is the difference between a Beef wellington recipe without mushrooms and a Beef wellington recipe?
A recipe without mushrooms will still have the same ingredients as a recipe with mushrooms. The main difference is that the beef is not pre-cooked, so it will be more tender when you eat it.
What are the step-by-step instructions for Beef Wellington?
1. Heat butter in a large frying pan on medium heat.
2. Add the beef and brown on all sides, approximately 5 to 6 minutes.
3. Remove from heat and set aside to cool for 10 minutes or so.
4. Add the mushrooms, onions, and garlic. Cook on medium-low heat until softened and browned.
5. Add flour to the beef mixture and stir well to evenly coat all ingredients.
6. Pour the beef mixture over a layer of puff pastry, then top with another sheet of puff pastry.
7. Brush the edges of the puff pastry with egg wash and place in a hot oven (400 degrees).
8. Bake until golden brown and cooked through.
9. Remove from oven and serve immediately.
What is the best way to reheat the Beef wellington recipe without mushrooms?
The best way to reheat Beef Wellington is to use the oven. However, if you prefer more comfort food and want to skip the oven, microwave it.
To reheat beef wellington in a microwave, simply heat it for 10-20 seconds on high power until hot.
Summary
Reviewer
Review Date
Reviewed Item
Beef wellington recipe without mushrooms
Author Rating
Recipe Name
Beef wellington recipe without mushrooms