If you are a vegitarian and your favourit dish is pulao this recipe is for you. Vegetable pulao is a delicious and aromatic dish from the Indian and pakistan subcontinent. This recipe is the combination of rice, season vegetables, and a variety of spices cooked in one pot. Not only is it a healthy option for vegan and vegetarian diets, but its mild flavors makes it a great introduction to Indian cuisine for those unfamiliar with it. so you follow our simple vegetable pulao recipe will show you how to make it in no time.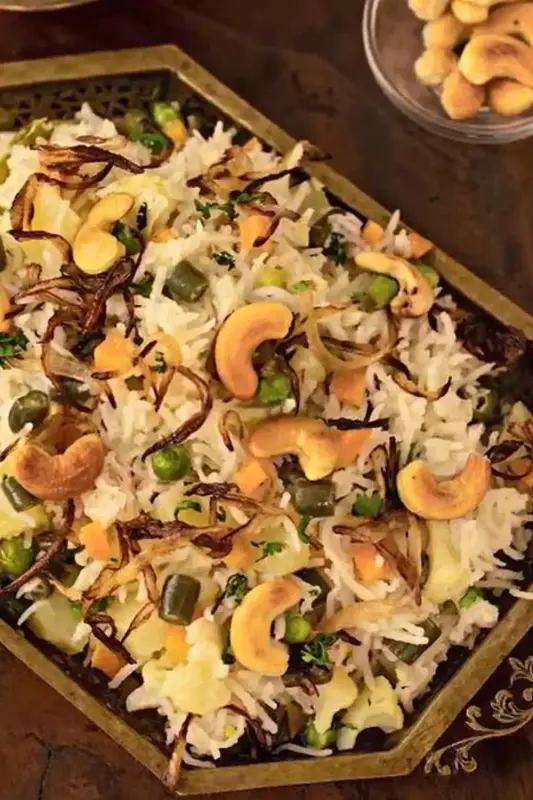 Why you'll love Vegetable pulao:
1

Delicious flavors

2

Healthy ingredients

3

Easy to prepare with simple ingredients

4

Comforting

5

Versatile dish
What are the ingredients:
Here are main ingredient you need buy before cooking.
Ghee
Cinnamon
Cardamom
Bay Leaf
onion
Green chilli
Ginger Garlic
Potatos
Carrot
Chopped Beans
Green Peas
Cauliflower
Basmati Rice
Diluted Coconut Milk
Check Out the Video How To Make vegetable pulao:
How to make Vegetable pulao recipe:
1

Heat ghee and oil in a pressure cooker, then add whole spices, onion, and green chillies, and saute them.

2

Once the onions turn transparent, add ginger garlic paste and continue to saute.

3

Introduce potatoes, carrots, beans, green peas, and cauliflower pieces, and saute for 3 minutes.

4

Season the mixture with salt and stir well.

5

Add soaked basmati rice to the pot and mix with the vegetables.

6

Pour diluted coconut milk and mix thoroughly.

7

Check the seasoning and adjust accordingly.

8

Seal the pressure cooker and cook the pulao for 1 whistle.

9

Your vegetable pulao is now ready to be served.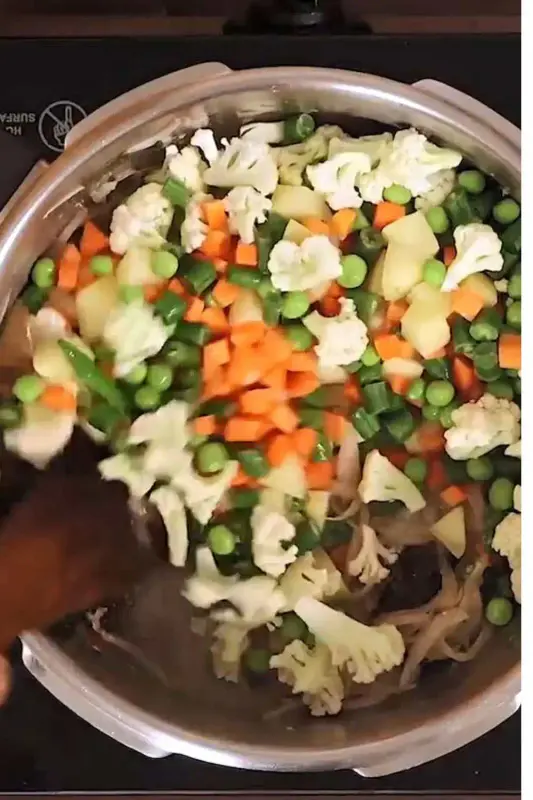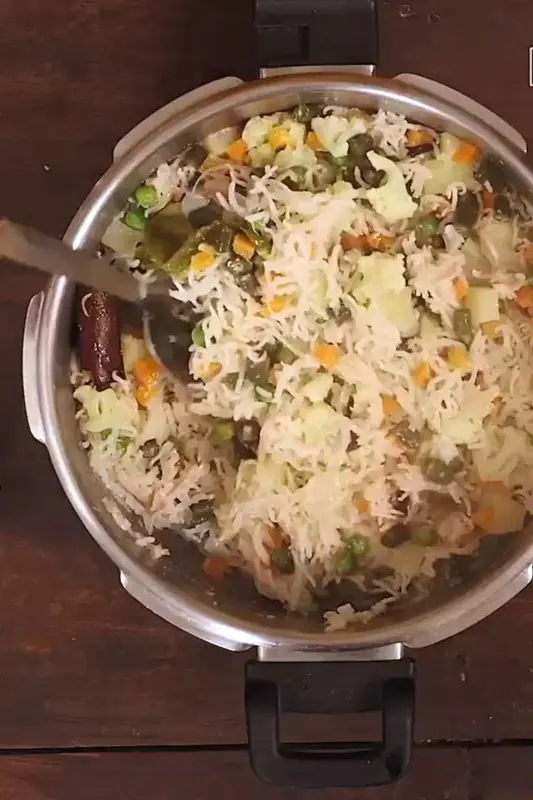 Chef Tips:
Sure, here are some chef tips for making a delicious vegetable pulao:
1

Use good quality rice: Makesure use the High quality rice like sela or basmati for best result of pulao, as it has a delicate flavor and texture that complements the vegetables and spices.

2

Soak the rice: Before cooking soak the rice at least 20 to 25 mint before cooking, as this will help it cook evenly and prevent it from breaking apart.

3

Use fresh vegetables: For best result you need to use seasion and fresh vegitables for getting the declious flavour vegitable pulao.

4

Use whole spices: you can use whole spices instead of ground spices , if want to enhance the taste, as they release their flavor slowly and give the dish a more complex taste.

5

Balance the seasoning: Make sure to balance the seasoning of the pulao, as too much or too little salt, spices, or herbs can ruin the flavor of the dish.

6

Use the right amount of water: Makesure add the right amount of water, because we already soak the rice, if you add too much water can make the rice mushy, and too little can leave it undercooked.

7

Let the pulao rest: Once the pulao is read, let the pulao rest for a few minutes before serving.
What Else To Serve with this mixed vegetable pulao
To enhance the taste of vegetable pulao can be a satisfying and wholesome meal on its own, but you can also serve it with a variety of side dishes to add more flavor and nutrition to your meal. Here are some ideas:
Raita: it makes with yougurt and green chili with pinch of salt , it is a side dish usaually we use with biryani and pulao. It helps to balance the heat and adds a refreshing element to the meal.
Papad: Papad is a crispy and crunchy Indian snack that is usually served as a side dish with meals. It provides a nice textural contrast to the soft and fluffy pulao.
Salad: You can serve simple vegitable salad including cocumber, onion, tamatoes and with lemon jucie on the side to add more freshness and nutrition to the meal.
Chutney: In india and pakistan dish are uncomplete without chutney you can serve with different type of chutneys, such as mint chutney, fresh coriander and green chilli chutney, or coconut chutney, on the side to add more flavor and depth to the meal.
Pickles: Pickles are the famous dush in this sub-continent. Pickles (Achar) are a great way to add tanginess and spiciness to your meal. You can serve any kind of pickle, such as mango pickle, lime pickle, or mixed vegetable pickle, on the side.
How to make Vegitable Pulao: