Achari mirch tadka recipe
Achari mirch tadka comes from the south of India where the flavors are as varied as the soil. The tangy taste of pickles and the spicy heat of chilies combine to create a dish that will take your taste buds to the next level. In this recipe, we'll take you on a journey to discover the secret behind this delicious dish, from its origins to how to prepare it.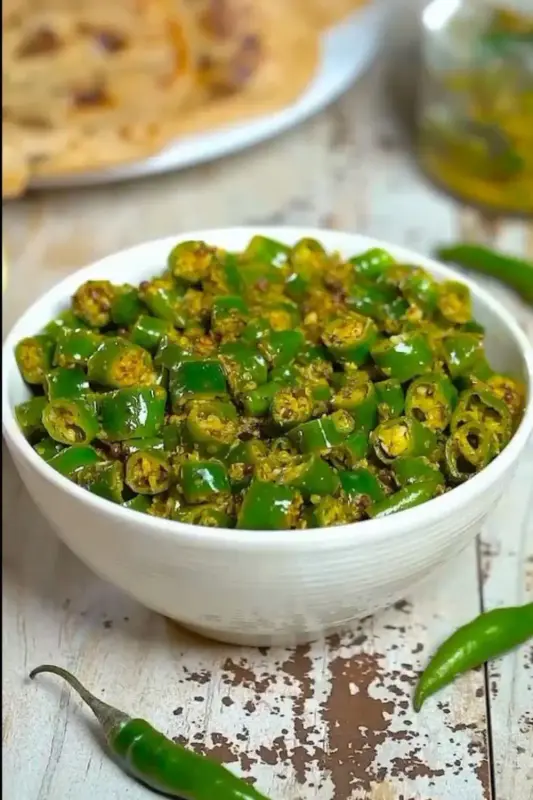 Origin of Achari Mirch Tadka
Achari mirch tadka also known as pickled chili tempering. Chili is one of the most popular pickles in India. In fact, pickles are one of the most common food items in almost every Indian household. This delicious recipe takes its name from the spicy and tangy taste of Indian pickles. It turns ordinary green chili into a spicy chili that tantalizes the taste buds.
Ingredients
Achari mirch tadka is a harmonious blend of ingredients carefully selected to create a symphony of flavors. Here's a breakdown of the essential components:
Green Chilies: At the heart of this dish are the vibrant green chilies. They provide the fiery punch that sets Achari mirch tadka apart. The heat level can be adjusted according to your preference, making it suitable for all spice enthusiasts.
Mustard Seeds: Mustard seeds add a nutty and slightly pungent taste to the tadka. They are also known for their health benefits, such as aiding digestion and boosting metabolism.
Fenugreek Seeds: These little seeds bring a hint of bitterness and earthiness to the dish, balancing the flavors. Fenugreek is also known for its anti-inflammatory properties and potential to lower blood sugar levels.
Fennel Seeds: Fennel seeds impart a mild, licorice-like flavor to the tadka. They aid in digestion and can freshen your breath.
Turmeric Powder: Turmeric not only adds a golden hue to the dish but also contributes anti-inflammatory and antioxidant properties.
Salt: A fundamental seasoning that enhances the overall taste and helps in preserving the pickle.
Oil: Traditionally, mustard oil is used, which adds a unique pungency to the dish. However, you can opt for any cooking oil of your choice.
Preparation
Now that we've acquainted ourselves with the key ingredients, let's dive into the art of preparing Achari mirch tadka. Follow these simple steps to create a delightful dish:
Prepare the Mustard and Fennel Seeds:
In a muddler, add 25 grams of mustard seeds.
Muddle the mustard seeds with the help of the muddler to release their flavor and aroma.
Add 1 teaspoon of fennel seeds to the muddled mustard seeds.
Muddle the fennel seeds along with the mustard seeds. This will help in blending the flavors.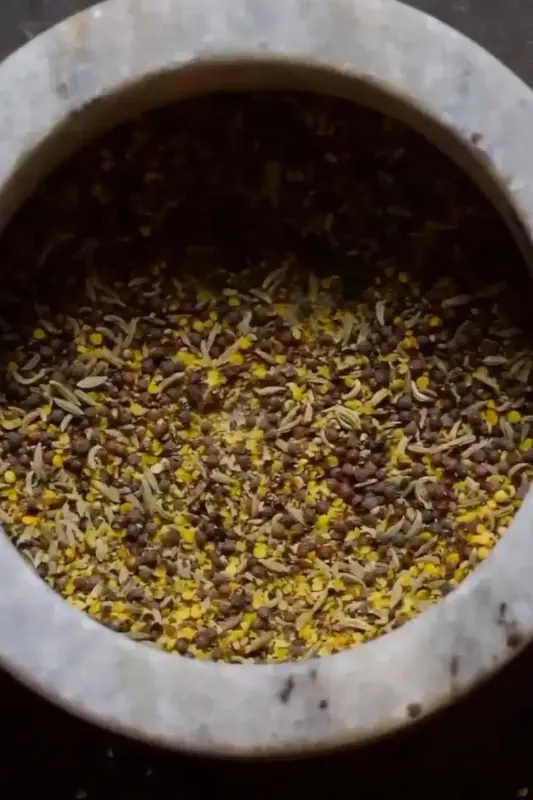 Prepare the Green Chilies:

Wash and dry 100 grams of green chilies.
Slit the green chilies lengthwise but keep them whole. You can remove the seeds if you prefer less heat.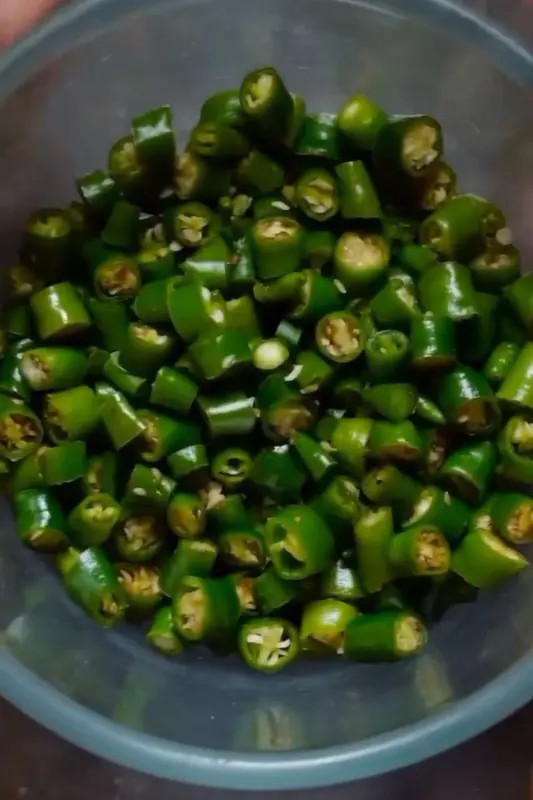 Mix Spices and Lemon Juice:

In a mixing bowl, combine the muddled mustard and fennel seeds with 1 teaspoon of salt, 1/2 teaspoon of turmeric, and 2 teaspoons of lemon juice.
Mix these ingredients thoroughly to create a flavorful spice mixture.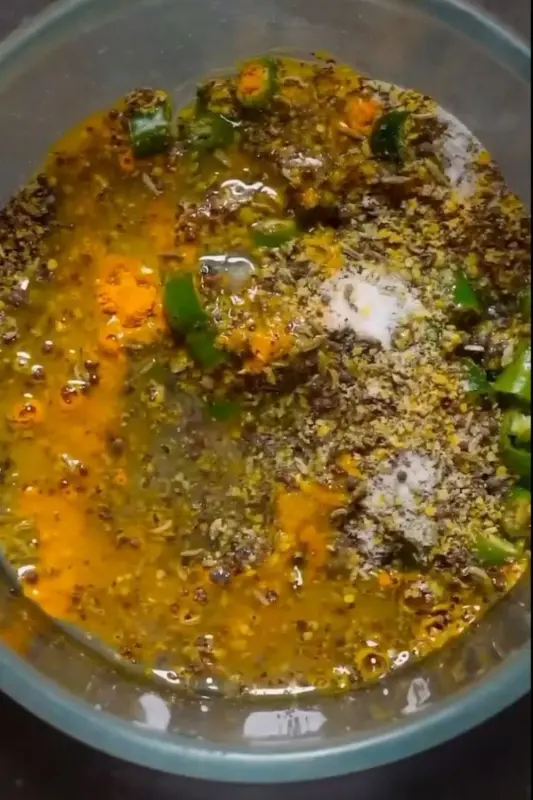 Add Hot Mustard Oil:

Heat 40 milliliters of mustard oil until it starts to smoke slightly.
Allow the hot mustard oil to cool for a minute or two.
Pour the hot mustard oil into the spice mixture. Be careful when handling hot oil, as it can splatter.
Mix everything well to create the Achari Mirch Tadka.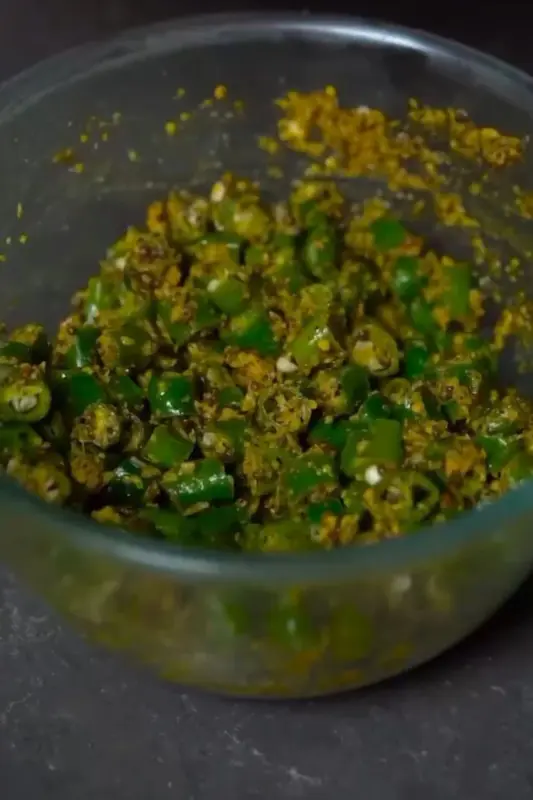 Let it Rest:

Allow the Achari Mirch Tadka to cool down to room temperature. This will help the flavors meld together.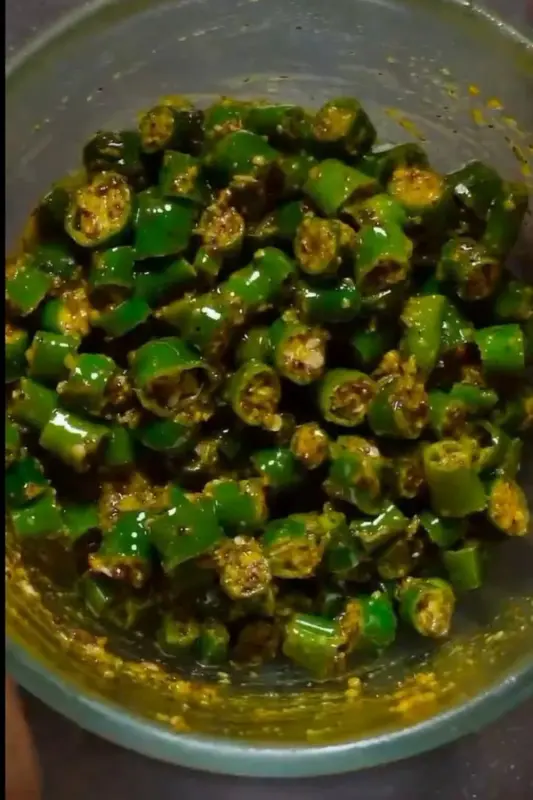 Serve:

Once the Achari Mirch Tadka has cooled, it's ready to be served.
Serve it as a condiment or side dish to complement your main meal.
Tips and Tricks
Use gloves when handling green chilies to avoid skin irritation.
Adjust the quantity of spices according to your taste preferences.
Ensure the jar is dry and airtight to prevent spoilage.
Serving Suggestions
Now that your Achari Mirch Tadka is ready, it's time to explore delightful serving options:
Accompany with Parathas: Achari Mirch Tadka makes a perfect partner for soft, flaky parathas. The heat of the tadka balances the richness of the parathas, creating a heavenly combination.
Enhance Rice Dishes: Add a spoonful of Achari Mirch Tadka as a garnish to biryanis, pulao, or plain steamed rice. It elevates these dishes to a whole new level of deliciousness.
Elevate Sandwiches: Spread Achari Mirch Tadka on your sandwiches for a zesty kick that takes your lunchtime favorite to another level.
Charcuterie Board Addition: Surprise your guests by including Achari Mirch Tadka as a unique condiment on your charcuterie board. Its bold flavors complement cured meats and cheeses beautifully.
Snacking Delight: Enjoy Achari Mirch Tadka as a spicy snack by itself. The tangy and fiery flavors make it an addictive treat.
Health Benefits:
While Achari Mirch Tadka is celebrated for its exceptional taste, it also offers several health benefits:
Digestive Aid: Many of the spices used in Achari Mirch Tadka, such as fennel seeds, nigella seeds, and asafoetida, aid digestion and alleviate gastrointestinal discomfort.
Anti-Inflammatory Properties: Turmeric, a key ingredient in the tadka, is renowned for its potent anti-inflammatory properties, potentially reducing the risk of chronic diseases.
Immune Boost: The combination of spices in Achari Mirch Tadka, including mustard seeds and fenugreek seeds, contains immune-boosting nutrients that help strengthen your body's defenses.
Rich in Antioxidants: The various spices used in this recipe are rich in antioxidants, which can protect your cells from oxidative stress and support overall well-being.
Flavor without Excess Calories: Achari Mirch Tadka adds layers of flavor to your dishes without piling on excessive calories, making it a great choice for those looking to manage their weight.