Top 5 Donut Topping Ideas
Looking to spice up your donut topping ideas? Doughy, sweet, and perfectly satisfying – nothing beats a good donut. But have you ever found yourself stuck in a vanilla glaze rut when it comes to toppings? Let's explore the fun world beyond the traditional sugar icing with our top five innovative donut topping ideas that are sure to elevate your breakfast game.
Welcome to Allfoodi donut lover! Get ready for a culinary journey as we explore the world of taste and imagination. In this article, we will be whisking away from the usual chocolate sprinkles and delve into five unique donut topping ideas guaranteed to make your mouth water and satisfy even the most adventurous palate.
The Rising Popularity of Donut Topping ideas:
Today, food enthusiasts are on the hunt for unique and exciting combinations that excite their taste buds and make each bite a special experience. This search for culinary creativity even extends to dietary preferences, with people exploring gluten-free options like a delightful recipe for gluten-free apple cider donuts. Donut toppings have gained popularity because they bring creativity to the table, offer a wide range of choices, and make the dessert experience ten times better. Whether you're enjoying a drizzle of rich caramel, trying out a surprising salted pretzel crunch, or letting your sweet tooth loose on colorful candy sprinkles, these tasty toppings bring bold and delightfully different flavors to your donut.
1- Traditional Donut Topping: Classic Sugar Glaze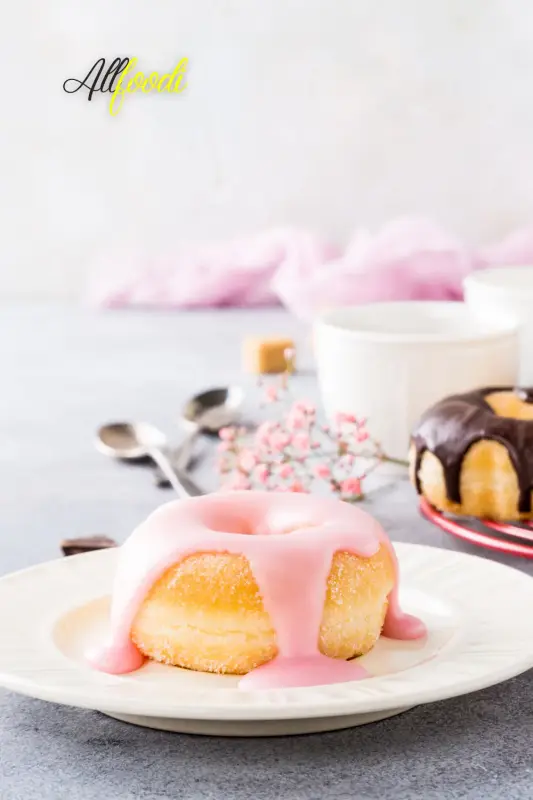 The classic sugar icing on donuts is a timeless delight enjoyed for ages. It's made by mixing sugar and a bit of liquid, creating a sweet, shiny layer on the soft, fried dough underneath. This simple and tasty sugar glaze has the perfect balance of sweetness and texture, which is why it's still a beloved choice among donut lovers around the world.
2- Gourmet Upgrade: Chocolate and Nutella Icing: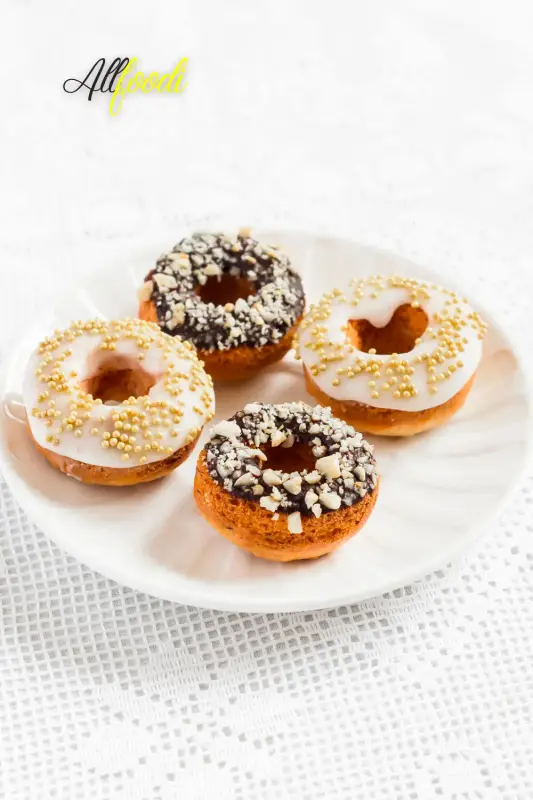 If you want to elevate your donuts to another level why not try a combination of chocolate and Nutella icing? It's one of our recommendations, for enhancing the deliciousness of donuts. You can discover it on our website, AllFoodi. This exquisite topping takes donuts to heights by merging the creamy allure of Nutella with the indulgent flavor of chocolate. The outcome is a fusion of sweetness, nuttiness and chocolaty goodness that transforms your everyday treat into a fancy delight. Whether you have a penchant for chocolate or Nutella this is definitely worth a shot.. Remember, you can explore delectable ideas, like this on our website to enhance your donut experience even further.
3- Fun and Fruity: Lemon Glaze and Coconut Flakes: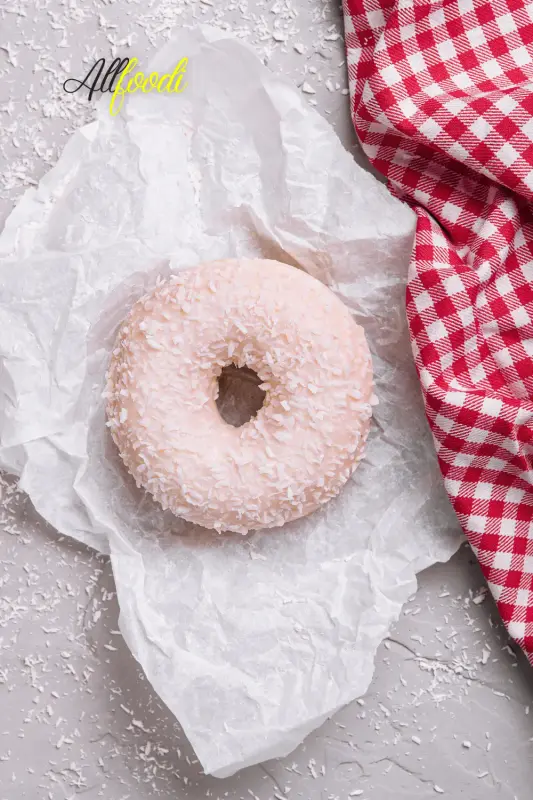 Looking to add some excitement to your donuts? Try our combination of lemon glaze and crunchy coconut flakes as a topping. It's, like a burst of sunshine in every bite! The zesty flavour of the lemon glaze will dance on your taste buds while the tropical touch of coconut flakes adds a crunch. Together they create a paradise experience for your donut. This sweet combo is perfect for those who enjoy fruity flavours with a hint of crunch. Give it a try and elevate your donut to levels of deliciousness. It's, like having a taste of summer anytime you want it!
4- Sweet and Salty Twist: Bacon Bits Topping: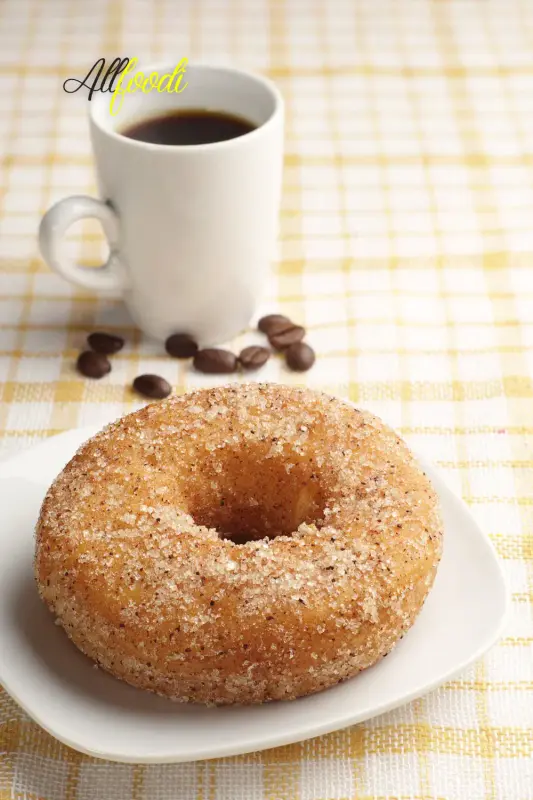 Add a delightful twist to your donuts with our sweet and salty combination – bacon bits as a topping! It's a unique and mouth-watering experience that you won't want to miss. The crispy, savoury bacon bits bring a salty, smoky flavour that pairs unexpectedly well with the sweet, soft donut. It's like a flavour adventure in every bite. So, if you're up for a delicious surprise and enjoy the contrast of sweet and salty, give this a try and elevate your donut game with this one-of-a-kind topping that'll leave your taste buds buzzing.
5- Childhood Favourite Reimagined: Cereal Sprinkled Donuts: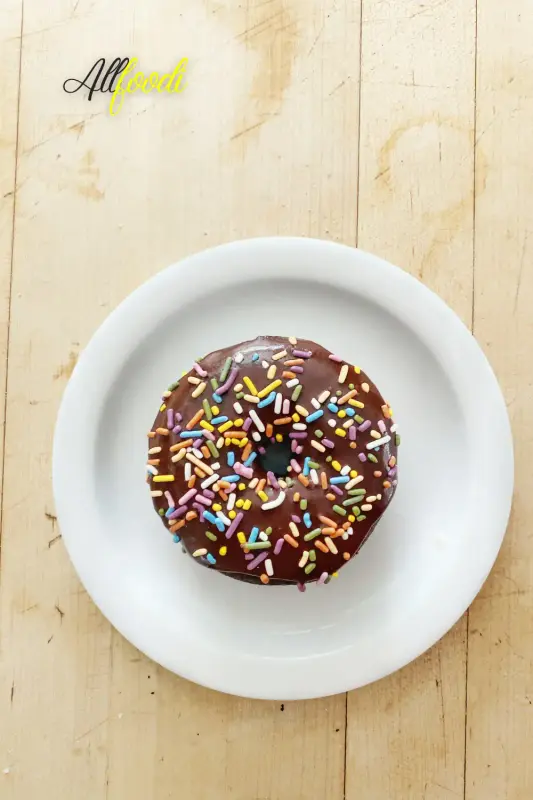 Experience a creative twist on a childhood favourite with our "Cereal Sprinkled Donuts." These treats take you on a journey down memory lane by adding a playful and nostalgic touch. Imagine your favourite cereal, those crispy, colourful bites, now topping your donuts. It's like a breakfast and dessert all in one! The crunchy cereal bits add a fun texture, and each bite is like a taste of the best parts of your morning and sweet treats combined. If you want a delightful and whimsical treat that brings back fond childhood memories, give these a try, and let your taste buds savour the magic of cereal on a donut!