This spinach and corn parcel combined is "VERY TESTY" and can make with a common ingredient, i'm sure to have in your kitchen. The best recipe for a healthy dinner with high protein, you can enjoy with tea.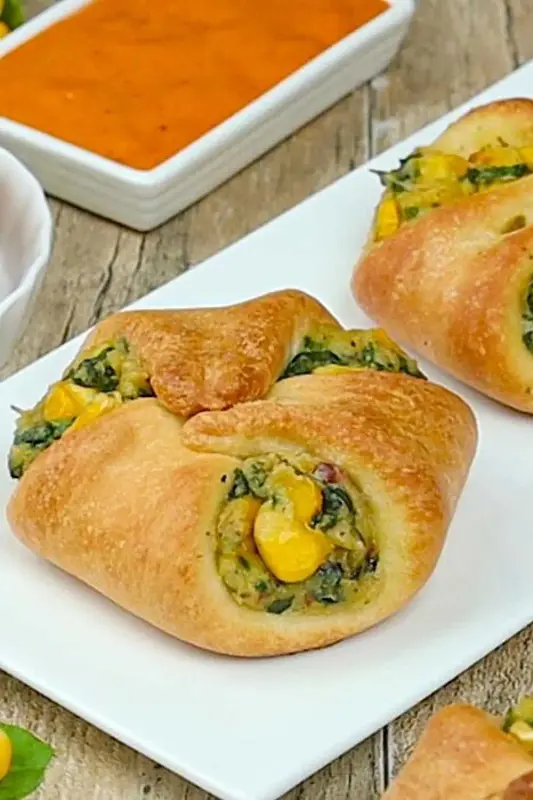 So the spinach and corn, they very crispy and good snacks.
Let's discuss the delicious attributes of Spinach and Corn parcels, including their crispy outsides, flaky insides, and perfect golden color. And, let's not forget that it also wraps spinach, corn, and spices in a crispy pastry shell, resulting in a savory and satisfying bite that is sure to please any palate. So they are full of nutrients, this is the best option for those who are looking to incorporate more vegi food into their diet.
Whether served as a snack or a main course, Spinach & Corn Parcels are a tasty and wholesome choice for any meal.
Quick Recipe Video:
Why you'll love:
1

Easy to make with few ingredients.

2

Full of Highly Nutritious ingredients.

3

It's Versatile.

4

It is a portable snack, that can carry anywhere.

5

Tasty and flavourful snack.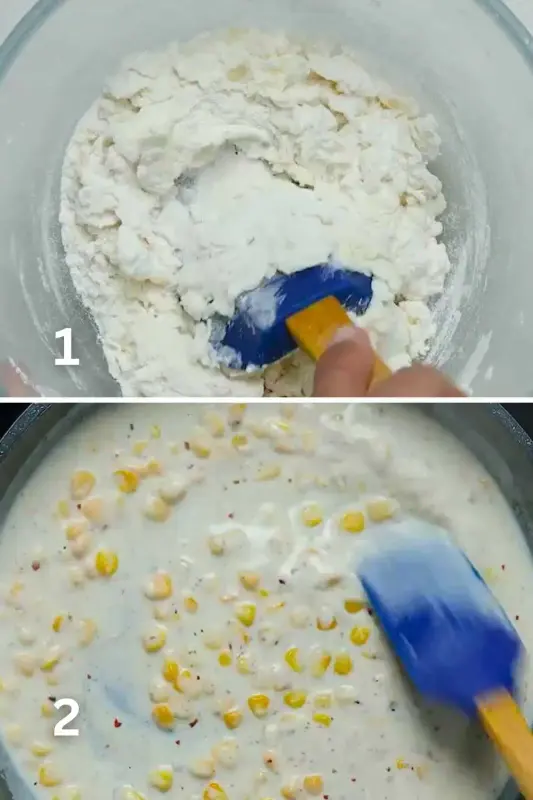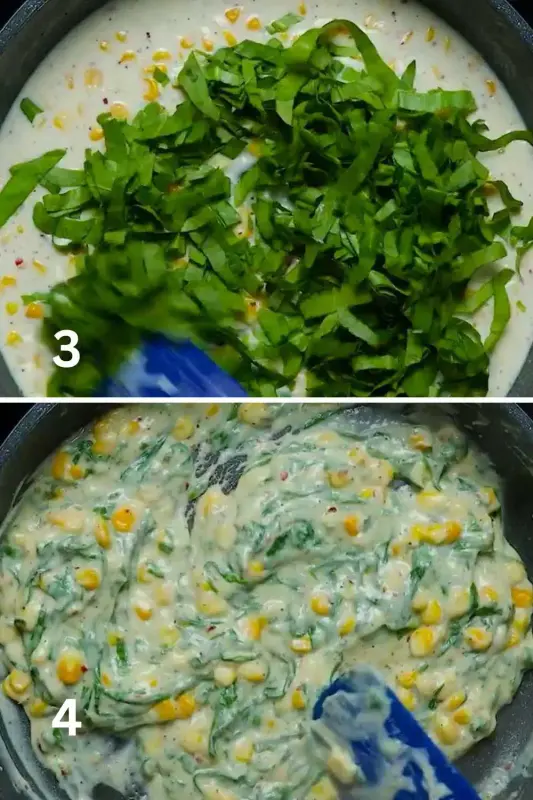 What Makes This Recipe So Good:
1

All-purpose flour for a versatile and light texture

2

Oil for cooking and adding moisture to the dish

3

Yogurt for tanginess and creaminess

4

Butter for richness and flavor

5

Boiled sweet corn for a pop of sweetness and texture

6

Black pepper for a subtle spicy kick

7

Chili flakes for an extra burst of heat

8

Milk for creaminess and to balance out the spices

9

Spinach for a healthy dose of vitamins and minerals.
I really love to have this Spinach and Corn parcel with a few fresh ingredients for a delicious flavor punch. If you don't have fresh ingredients, you can also use freeze. I also use frozen spice when I don't have fresh.
Chef Tips:
1

Use fresh spinach leaves and sweet corn for the best flavor and texture.

2

Make sure to squeeze out any excess water from the spinach to avoid a soggy filling.

3

Season the filling well with black pepper, chili flakes, and salt to bring out the flavors.

4

Don't over-stuff the parcels as it can make them difficult to fold and break open while baking.

5

Brush the parcels and oil before baking to give them a crispy golden crust.

6

Serve the parcels hot and fresh for maximum enjoyment.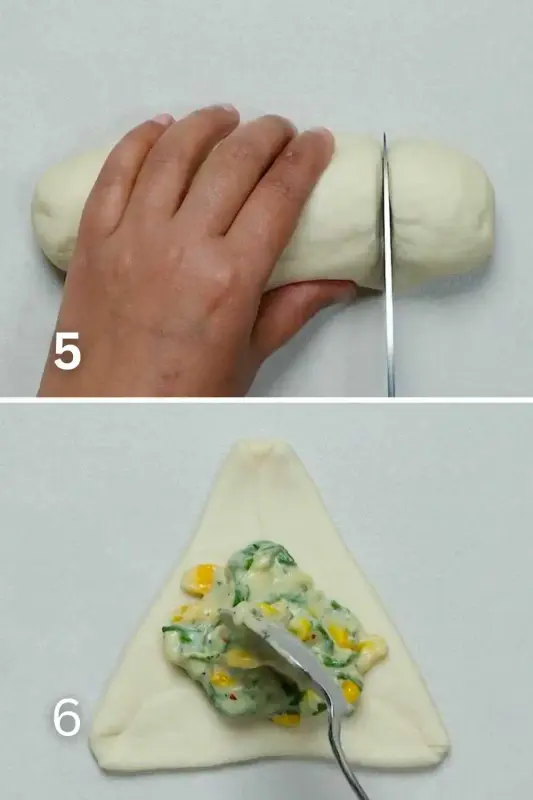 How You'll Make These Spinach Corn Parcels:
1

In a mixing bowl, Add the all-purpose flour, salt, powdered sugar, baking powder, and baking soda. Mix well.

2

Take a separate bowl, and whisk together the oil, butter, and yogurt until they Combined well.

3

Now time to Add the dry ingredients to the wet ingredients and mix them together.

4

Add the boiled sweet corn, black pepper, chili flakes, milk, and spinach to the batter. Mix until well combined.

5

Add water to the batter and mix until the batter is smooth.

6

Heat a non-stick pan over medium heat. Grease the pan with oil or butter.

7

Pour a ladleful of the batter onto the pan and spread it out evenly.

8

Cook the pancake for 2-3 minutes on one side, until the bottom, is golden brown.

9

Repeat with the remaining batter, greasing the pan as needed.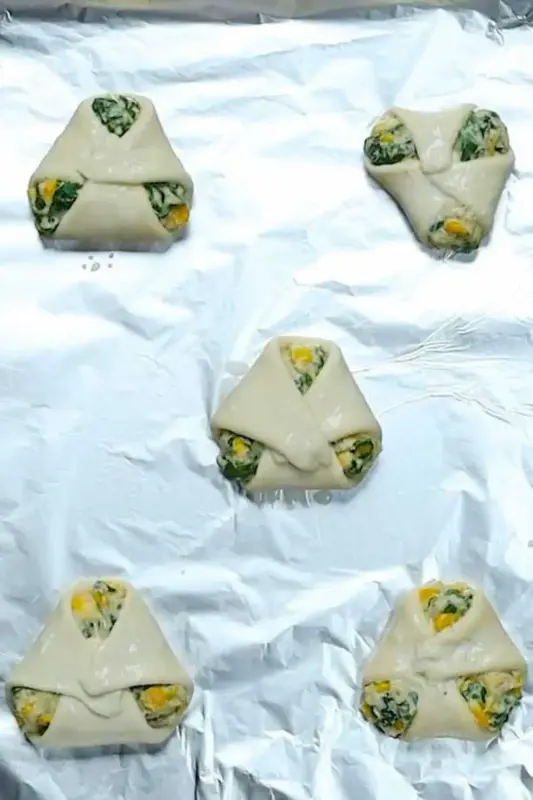 What Else To Serve with this Spinach corn:
Here are some ideas for dishes that you could serve alongside spinach and corn:
1

Beef wellington: Beef wellington is a great pair of spinach and corn. Season the beef with salt, pepper, and your favorite spices before baking.

2

Roasted vegetables: if you are health conscious these Roasted vegetables like carrots, zucchini, and bell peppers, are a great option for your health.

3

Roasted potatoes: Serve some warm roasted potatoes best idea to serve with spinach and corn.

4

Ambrosia salad:: A light and refreshing Ambrosia salad with Strawberries, Peaches, Apples, Green grapes, and Cherries, would complement the flavors of the spinach and corn.

5

Cranberry orange whiskey: This must be a delicious combination with spinach corn parcel.

6

Chicken and brown rice: Chicken brown rice would be a great addition to a spinach & corn meal.

7

Green salad: A simple green salad with a tangy vinaigrette would provide a fresh and crunchy contrast to the warm spinach and corn.
Spinach & Corn Parcels: FREQUENTLY ASKED QUESTIONS:
What are spinach and corn parcels?
Spinach and corn parcels are a type of vegetarian appetizer or snack made by filling crispy pastry with a mixture of spinach, corn, and other ingredients, then baking or frying until golden brown and crispy.
How do I make spinach and corn parcels?
To make spinach and corn parcels, you'll need to prepare a filling of spinach, corn, onion, garlic, spices, and sometimes cheese or other vegetables. Then, wrap the filling in squares of puff pastry or phyllo dough and bake or fry until crispy and golden brown.
What ingredients do I need to make spinach and corn parcels?
To make spinach and corn parcels, you'll need spinach, corn, onion, garlic, spices such as cumin and paprika, salt, pepper, puff pastry or phyllo dough, and oil or butter for cooking.
Can I freeze spinach and corn parcels?
Yes, you can freeze spinach and corn parcels for up to 2-3 months. To freeze, place the cooked parcels in an airtight container or freezer bag and store in the freezer. To reheat, thaw the parcels in the refrigerator overnight, then bake in the oven until heated through and crispy.
How do I reheat spinach and corn parcels?
To reheat spinach and corn parcels, preheat your oven to 350°F (180°C). Place the parcels on a baking sheet and bake for 10-15 minutes, or until heated through and crispy. You can also reheat them in the microwave for 1-2 minutes, but they may not be as crispy as when reheated in the oven.
How to make Spinach and Corn Parcels