Creamy Chicken Goat Cheese Pasta
If you are looking for a mouth-watering pasta dish for a weeknight dinner, then this is the right place for Chicken Goat Cheese Pasta with an easy step-by-step process. This dish is combined with juicy chicken, and fresh vegetables, mixed with creamy Goat Cheese to create a truly unique and delicious taste sensation.
But the best thing about this recipe is the wide range of combinations you can choose a simple and easy ingredient to make a quick weeknight meal or a more complex and gourmet version to impress your guests at a dinner party. The creamy texture and savory flavors of the goat cheese make this dish a crowd-pleaser, even for the most discerning of palates.
Why You'll love Chicken Goat Cheese Pasta:
The perfect blend of flavors
It's easy to make
It's versatile
It's a crowd-pleaser
It's a complete meal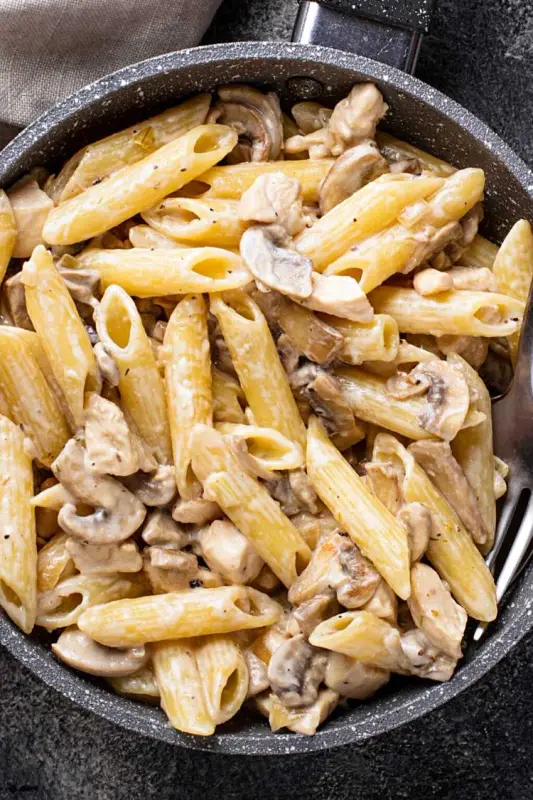 How to Make Creamy Chicken and Goat Cheese Pasta:
To begin cooking, put a big pot of salted water on the stove and turn the heat to high. Wait for the water to reach a rolling boil. Then, add the penne pasta and some olive oil to the boiling water. Follow the cooking instructions on the package, usually cooking for 10 to 12 minutes.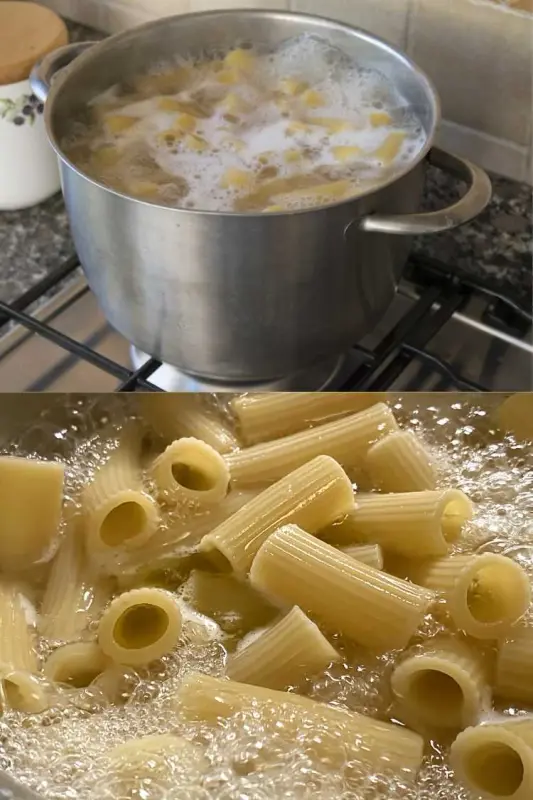 Pour the cream into a large skillet over medium heat while you wait for the water to boil. Add the rosemary and garlic to the cream and bring it to a simmer, being careful not to let it boil over. Let the cream reduce by approximately half.
Add the goat cheese and chicken to the mixture and stir. Keep cooking until the cream coats the back of a spoon.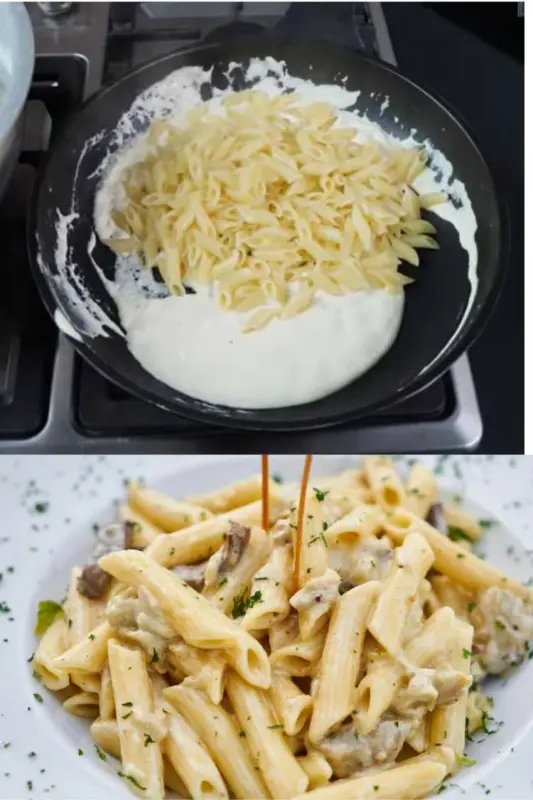 Thoroughly drain the pasta. Add the pasta to the sauce. Coat the pasta in the sauce and simmer over low heat for a few minutes. Serve hot.
Topping:
One great topping idea for Chicken Goat Cheese Pasta is to sprinkle some toasted pine nuts over the dish. The pine nuts add a nice crunch and nutty flavor that complements the creamy goat cheese and savory chicken. You can toast the pine nuts in a dry skillet over medium heat until they turn golden brown, or you can bake them in the oven at 350°F for 5-7 minutes. Just be sure to watch them closely so they don't burn. Once toasted, sprinkle the pine nuts over the pasta dish right before serving for a delicious and visually appealing finishing touch.
Serving:
Serve with a side salad: A fantastic serving suggestion for pasta is to pair it with a delicious chicken salad, fresh vegetables, succulent cherry tomatoes, and a flavorful vinaigrette dressing. This simple yet satisfying combination perfectly complements the creamy and indulgent taste of the pasta. Give it a try and impress your taste buds with this delectable dish.
Roasted vegetables: Incorporating roasted vegetables into your pasta dish can elevate the flavors and textures of your meal. Bell peppers, eggplant, zucchini, and other roasted vegetables make an excellent pairing with pasta. These vegetables provide a satisfying depth of flavor and a variety of textures that can enhance the overall taste experience.
Garlic bread: This is my favorite serving idea, you can also use garlic bread or crusty bread on the side to sop up the extra sauce from the pasta.
Grilled or fried chicken: It's a delicious and easy way to get the extra protein you need. Simply slice up the chicken and place it on top of your pasta for a filling and satisfying meal. Trust me, once you try this dish, you won't be able to get enough of it! So go ahead and give it a try – your taste buds will thank you.
Wine: A glass of white wine such as Chardonnay or Sauvignon Blanc can be a perfect complement to the flavors of the pasta.
Chef's Tips for Goat Cheese Pasta:
If you're looking to make a delicious and creamy chicken goat cheese pasta, here are some expert tips to help you elevate your dish:
Use high-quality chicken: If you want to create a truly standout dish with chicken as the star ingredient, it's crucial to start with high-quality chicken. Free-range or organic chicken are excellent options that are sure to give you the best possible flavor and texture.
Cook the chicken correctly: To prevent the chicken from drying out, you can add the salt and pepper and cook it over medium heat. Make sure you don't overcook it will become tough and rubbery.
Use fresh herbs: If you want to increase the taste of your dish next level, make sure you add fresh herbs. such as thyme, basil, and parsley can add a ton of flavor and aroma to your dish, making it more appealing to both the eye and the palate
Use good quality pasta: Pasta is the main ingredient of your dish this will make and break your dish. So make sure to use high-quality pasta made from durum wheat, which has a higher protein content and will give your pasta a better texture.
Don't overcook the pasta: To ensure your pasta doesn't become mushy, cook it until it's al dente, which means it's still slightly firm to the bite.
Use goat cheese: After pasta ingredient goat cheese is the main ingredient in this dish so make sure don't compromise the goat cheese use high-quality cheese. Goat cheese has a tangy and creamy flavor that pairs perfectly with chicken and pasta.
Reserve some pasta water: When you drain the water from the pasta don't waste the water, use this water for making the thick and emulsify the sauce.
Use a mix of cream and milk: To make the sauce creamy, use a mixture of heavy cream and whole milk. This will give you a creamy and smooth sauce without being too heavy.
Add the cheese gradually: To prevent the cheese from clumping, add it gradually to the sauce while stirring continuously.
Add some greens: if you want to add a greenish look to your dish add some green vegetables like kale, and spinach use these vegetables in the sauce before adding the pasta.
Tools for GOAT CHEESE PASTA WITH CHICKEN :
To make a delicious and creamy goat cheese pasta with chicken, you will need the following tools:
Large pot: This is the main tool for boiling pasta. Make sure it is big enough to hold at least 4-6 quarts of water.
Strainer: Strainer used after bowling the pasta. You will need a strainer to drain the pasta once it's cooked.
Large skillet: A large skillet or frying pan is perfect for cooking the chicken and the sauce. Make sure it has a lid that fits well.
Wooden spoon or spatula: You can use a wooden spoon or spatula or non-stick it up to you both have great options for stirring the pasta and the sauce.
Kitchen tongs: You will need kitchen tongs to handle the chicken and the pasta.
Measuring cups and spoons: if you are not an expert this will be great if you Accurately measure your ingredients is important for the success of this recipe.
Grater: You will need a grater to grate the goat cheese.
Storage Instruction Goat Cheese Pasta:
Refrigeration: you can Store 3 to 4 days leftover chicken goat cheese pasta in an airtight container in the refrigerator.
Freezing: if want to use chicken goat cheese pasta for a long time you can freeze it for up to 2 to 3 months. But keep in mind that the texture of the pasta may change after being frozen and thawed.
Reheating: To reheat the refrigerated pasta, you can microwave it in a microwave-safe dish, stirring every 30 seconds until it's heated through. Alternatively, you can reheat it on the stovetop in a saucepan, adding a little bit of milk or cream to the sauce to prevent it from drying out. If reheating from frozen, thaw it in the refrigerator overnight before reheating.
How to make Chicken Goat Cheese Pasta Recipe:
Summary
Reviewer
Review Date
Reviewed Item
Chicken Goat Cheese Pasta
Author Rating
Recipe Name
Chicken Goat Cheese Pasta