Healthy Chicken Burrito Recipe
Chicken burritos are a delicious dish for males and females, You can easily make a chicken burrito recipe if you don't have enough time and you want to eat some delicious food this dish is for you. It is so simple if you buy a pre-made version or made your own style; they made quickly the chicken burrito.
While some recipes require time and effort, we can prepare them in just a few minutes. So I will give you some tips on how you can increase the taste, I'm sure when you will eat this dish, you will add it to your favorite recipe. First, we dish the benefits of Chicken burritos then will discuss step by-step how to make them and tips.
Why You'll love chicken burrito recipe:
1. This is a convenient meal.
2. They're chock full of nutrients that keep you filled up and energized.
3. We can customize them with your favorite Toppings.
4. Easy to make at home with simple ingredient
5. They add valuable nutrition to your diet.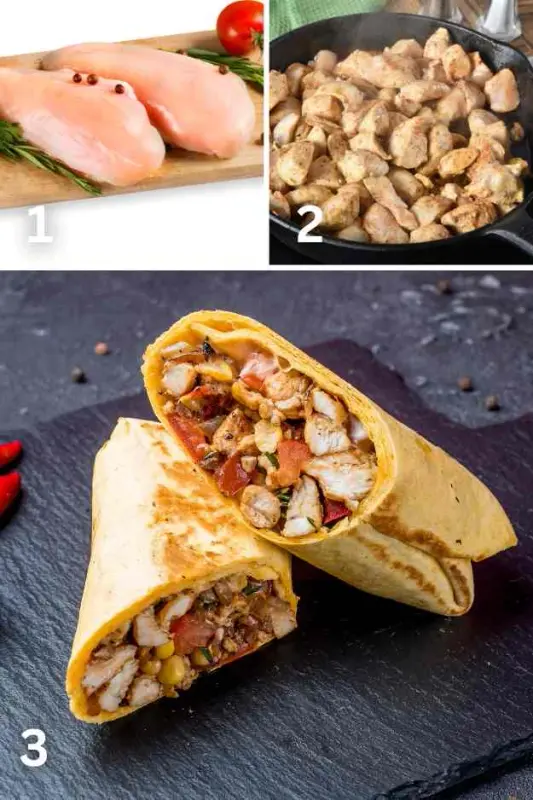 How to Make Healthy chicken burrito recipe:
Preheat your oven to 375°F (190°C).
Heat olive oil in a large skillet over medium-high heat. Season chicken breasts with chili powder, cumin, paprika, garlic powder, salt, and pepper. Add chicken to skillet and cook for 6-8 minutes per side until browned and fully cooked. Let chicken rest for a few minutes before slicing it into strips for serving.
Add the onion and bell pepper in the same oil and cook for 8 to 10 minutes over medium flame cook until the vegetables are tender and slightly caramelized.
While the vegetables are cooking, warm up the tortillas in the oven for a few minutes until they are soft and pliable.
To assemble the burritos, place a tortilla on a plate and add a spoonful of rice to the center. Top with a few strips of chicken, some black beans, and some cooked bell peppers and onions. Sprinkle with shredded cheese and a spoonful of salsa.
Fold one side of the tortilla into the center of the roll, then roll the other way. Repeat these steps with tortillas and fillings.
Place the chicken burrito on a baking sheet and bake until the cheese is melted.
Enjoy your delicious chicken burrito.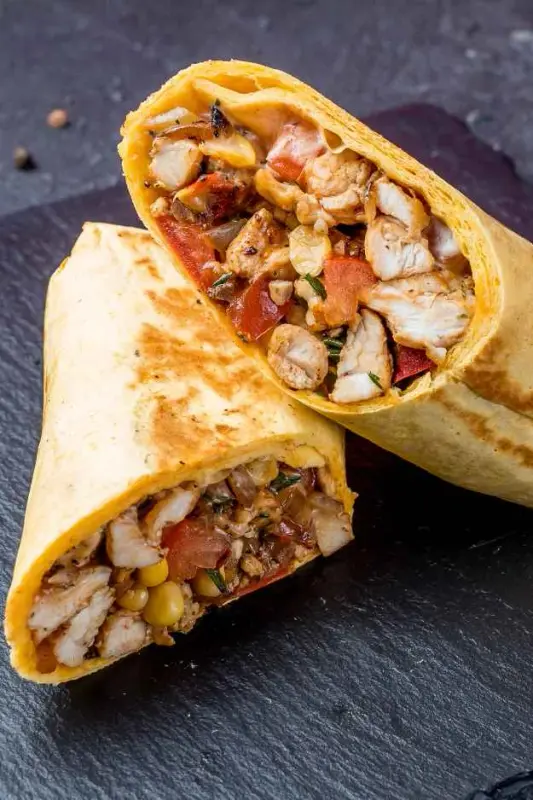 Chicken burrito Toppings Ideas:
Here is an idea you can use for Chicken Burrito Recipe
Rice
Beans
Cheese
Salsa
Guacamole
Sour cream
Lettuce
Tomatoes
Onions
Cilantro
Jalapenos
Hot sauce
Lime juice
Corn
Avocado
Serving:
You can also serve the chicken burritos with a side of chips and salsa, Red Sauce, and a fresh salad
Chef's Tips for chicken burrito:
Marinate the chicken breast and cover it for half an hour then use this chicken, it will increase the flavor and help to keep it tender. Using simple ingredients, such as lime juice, ginger, garlic paste, and cumin is a great option.
Rice: Rice is a key ingredient in burritos, and adding a pinch of salt and freshly chopped cilantro while it cooks can make a significant difference in enhancing the overall flavor.
Fresh ingredients: use fresh ingredients; you'll notice it will increase the taste. Be sure to use fresh herbs, ripe tomatoes, and crisp lettuce.
Warm the tortillas: Heating the tortillas before assembling your burritos will make them more pliable and easier to roll. You can warm them in a dry skillet or in the microwave wrapped in a damp paper towel.
Don't overstuff: It's tempting to stuff your burrito to the max, but overstuffing can make it difficult to roll and eat. Only fill it about two-thirds full.
Sauce: A good sauce can bring all the flavors of your burrito together. Try making a simple salsa with diced tomatoes, jalapenos, and cilantro, or a creamy avocado sauce with lime juice and sour cream.
Tools:
Storage Instruction chicken burrito:
Refrigeration: If you plan to eat your chicken burrito within a day or two, you can store it in the refrigerator. Wrap it tightly in plastic wrap or aluminum foil to prevent it from drying out. Place it in an airtight container or a zip-top bag to keep it fresh. Make sure your refrigerator is set to below 40°F (4°C).
Freezing: If you want to store your chicken burrito for a longer period of time, you can freeze it. Wrap it tightly in plastic wrap or aluminum foil, and then place it in an airtight container or a freezer-safe zip-top bag. Make sure to label the container or bag with the date so you can keep track of how long it has been in the freezer. Frozen chicken burritos can last up to three months in the freezer.
Reheating: When you're ready to eat your chicken burrito, you'll need to reheat it properly. If it's been in the refrigerator, you can simply unwrap it and microwave it for 30-60 seconds or until it's heated through. If it's been in the freezer, you'll need to thaw it in the refrigerator overnight before reheating it.
How to make Chicken Burrito Recipe
Summary
Reviewer
Review Date
Reviewed Item
Author Rating
Recipe Name