The Dahi Papdi Chaat, a renowned Indian street food recipe, is a chaat that packs an explosion of flavors in every bite. This dish looks amazing and has a tasty flavor comprised of crispy papdi (crackers made from whole wheat), sev (gram flour noodles), creamy yogurt, and a mix of chutneys. The combination of sweet chutneys, and spicy, tangy flavors in this chaat, makes it a must-try for any food lover.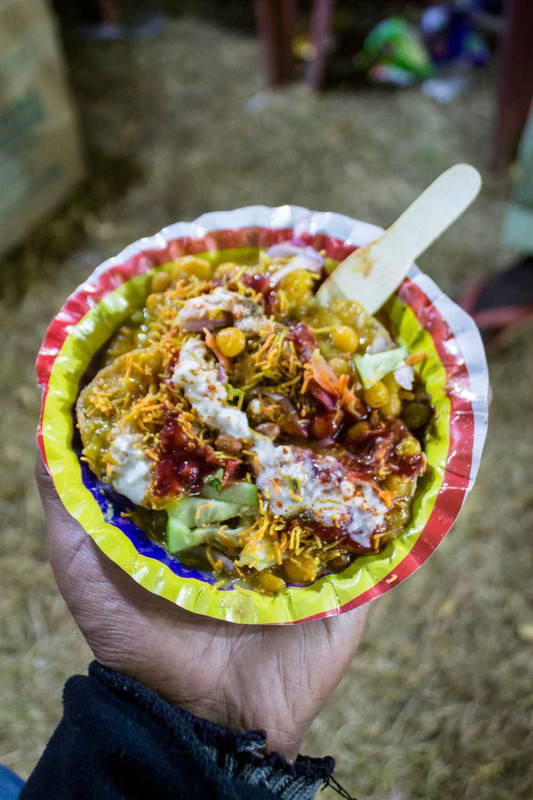 What Dahi Papdi Chaat?
Dahi papdi chaat is the most famous street food in India and Pakistan. It is a type of mixture of spice chaat, which typically consists of different flavors and textures. Dahi Papdi Chaat is made with papdi, which are crispy, fried whole wheat crackers. The ingredient of this chaat is Sev which makes from gram flour (media) noodles, yogurt, Onion, boiled potatoes, tomatoes, and also spic like chaat masala, mix with all ingredients and topped with Sev (peppery). It is a highly favored snack in India and is enjoyed by people of all ages.
Why do you love the Dahi Papdi Chaat recipe:
Unique flavor profile: Dahi Papdi Chaat is a perfect meal mix with sweet and spicy sour flavors.
Textural variety: The combination of different chutneys and yogurt creates a wonderful combination of textures in every bite.
Convenient and portable: Dahi Papdi Chaat is an easy-to-eat and economical meal making it an ideal snack for busy people.
A taste of India: For many people, Dahi Papdi Chaat is a delicious representation of Indian street food culture, and it offers a unique taste of the country's rich culinary heritage.
Affordable: Dahi Papdi Chaat is an affordable snack, making it accessible to people from all walks of life.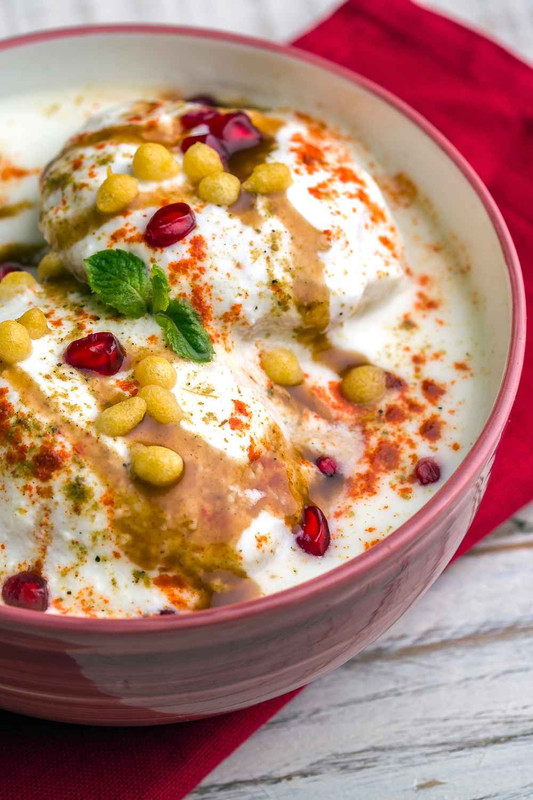 What are the chutneys needed to make Dahi Papri Chaat?
Usually, there are two types of chutneys (Spice) every dahi bhalla papdi chaat seller have
Mint chutney (Spice)
Tamarind chutney
Some sellers may also use coriander chutney, chili, and lemon juice but very rare sellers use this spice in the dahi papdi recipe. All of these chutneys are important for adding depth and complexity to the flavors of Dahi Papri Chaat.
Mint Chutney: This mint chutney increases the spice and flavor in Dahi pappdi chaat. This chutney is made with fresh mint leaves, cilantro, green chili, ginger, and lime juice, salt and blended with water to create a fresh, tangy, and spicy sauce.
Tamarind Chutney: This chutney is made with tamarind pulp, sugar, salt, and spices, blended together to create a sweet and sour sauce.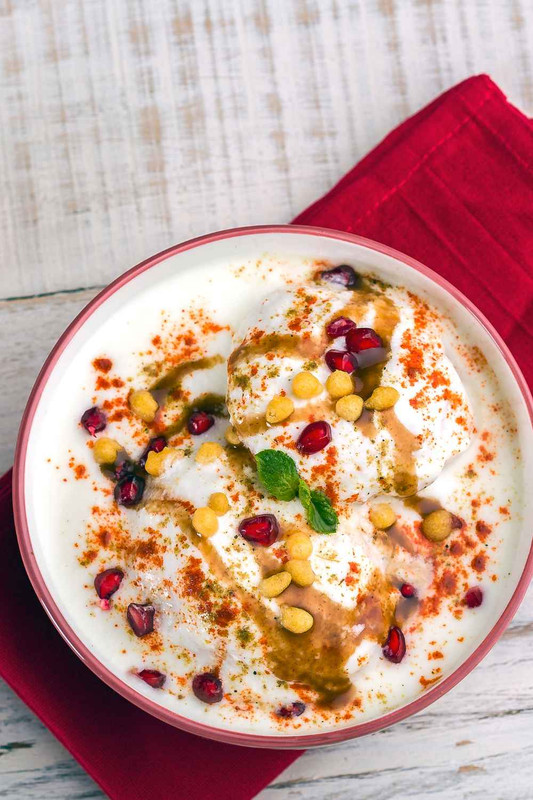 Tips to make the Perfect Delhi Papdi Chaat:
Here are a few tips to help you make the perfect Delhi Papdi Chaat:
Use freshly made papdis: Papdis are a key ingredient in this dish, so it's important to use fresh, crispy papdis for the best texture. You can make your own papdis at home or buy them from an Indian store.
Beat the yogurt well: Be sure to beat the yogurt until it's smooth and creamy to ensure that it spreads evenly over the papdis. You can also add a pinch of sugar to the yogurt to make it slightly sweet.
Adjust the spices to your liking: The number of spices you add to the chaat can vary depending on your personal preferences. So, feel free to adjust the amount of salt, red chili powder, cumin powder, and chaat masala to your liking.
Use fresh chutneys: Fresh chutneys, such as tamarind chutney and mint chutney, add a tangy and spicy flavor to the chaat. You can buy these chutneys ready-made or make your own.
Add toppings of your choice: To make the chaat more flavorful and colorful, you can add toppings such as chopped onions, chopped tomatoes, and sev.
Serve immediately: Dahi Papdi Chaat is best served immediately after assembling to ensure that the papdis remain crispy and the flavors are at their best.
Dahi papdi chaat recipe
A popular Indian street food dish made with crispy fried flatbread, mashed potatoes, chickpeas, yogurt, and a variety of spices and chutneys.
Ingredients
20

papdis (crispy fried flatbread)

2

cups

yogurt

1/2

cup

boiled and mashed potatoes

1/2

cup

boiled and chopped chickpeas

2

tbsp

tamarind chutney

2

tbsp

mint chutney

Salt to taste

Red chili powder to taste

Cumin powder to taste

Chaat masala to taste

1/2 cup sev

1/2 cup coriander leaves, chopped
Instructions
Crush the papdis in a large plate or serving dish.

Beat the yogurt in a separate bowl until smooth and creamy.

Spread the mashed potatoes evenly over the papdis. Spoon the beaten yogurt over the potatoes. Sprinkle the chickpeas over the yogurt.

Drizzle the tamarind chutney and mint chutney over the chickpeas.

Sprinkle salt, red chili powder, cumin powder, and chaat masala over the chutneys.

Top the chaat with sev and coriander leaves.

Serve immediately and enjoy
Summary
Reviewer
Review Date
Reviewed Item
Author Rating
Recipe Name