5 Quick and Easy Lazy Keto Recipes for Delicious Low-Carb Meals
Are you looking for an easy, stress-free way to stick to your ketogenic diet? Don't wait and see! We've listed our top 5 lazy keto recipes that are sure to satisfy your hunger without ruining your diet. These recipes are easy, quick, and require minimal effort – perfect for those busy weekday evenings when you don't have the time (or energy!) to spend hours in the kitchen.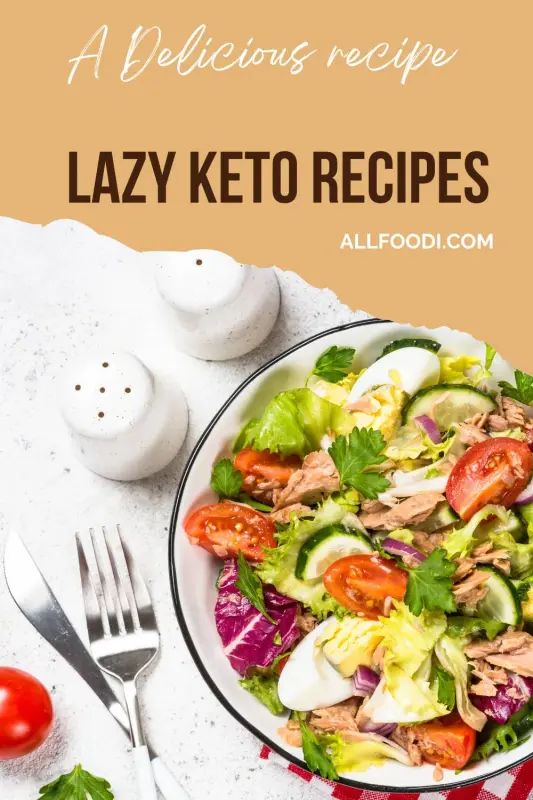 Why you love Easy Lazy Keto Recipes:
1. Lazy keto recipes are easy and quick to make.
2. they are cost-effective as they require fewer ingredients than traditional recipes.
3. the meals are nutrient-dense and provide a balanced ratio of macronutrients for those following a ketogenic diet.
4. due to their high-fat content, they can also help reduce appetite and thus weight loss
5. Lazy keto recipes have many delicious possibilities for more culinary creativity, even with limited ingredients and time.
Are you looking for an easy and nutritious dinner that is both delicious and quick? Then Keto Sheet Pan Dinner is just what you need! This one-pot meal contains all the essential flavors, nutrients, and ingredients you need for a complete meal. It's made up of a variety of proteins, vegetables, and healthy fats that help provide your body with essential vitamins and minerals while keeping carbohydrates low
2-
Easy Keto Taco Salad Recipe
This Easy Keto Taco Salad recipe is perfect for a quick and healthy meal. Made with ground beef, lettuce, tomatoes, cheese, and avocado, it's a low-carb and gluten-free salad that's ready in just 20 minutes.
3-
Lazy Keto Chicken Alfredo
The ketogenic diet has been gaining popularity lately as a way to lose weight and stay healthy. Lazy Keto Chicken Alfredo is a delicious and easy dish that is perfect for anyone looking to board the Keto train. This one-pot meal combines a high-fat creamy sauce with protein-rich chicken and fiber-rich vegetable alternatives.
4-
Healthy fruit pizza recipe cream cheese
If you're looking for a tasty, healthy snack that's sure to be a hit with kids and adults alike, then this fruit pizza recipe with cream cheese is the perfect solution! This easy-to-prepare dish is full of nutritious fruits like apples, bananas, and grapes covered in cream cheese frosting. Not only is it full of flavor, but this fruit pizza is also low in calories and fat – making it an ideal snack or dessert option.
5-
keto breakfast sandwich
This Keto Breakfast Sandwich is a delicious and satisfying way to start your day! It features a fluffy scrambled egg, creamy avocado, crispy bacon, and melty cheese, all sandwiched between two slices of bread (or a keto-friendly alternative). The combination of protein, healthy fats, and fiber makes this sandwich a nutritious and energizing meal that will keep you feeling full and satisfied all morning. It's also quick and easy to prepare, making it perfect for busy mornings or lazy weekends. Enjoy this Keto Breakfast Sandwich as is or with your favorite low-carb toppings for a tasty and satisfying breakfast that fits perfectly into your keto lifestyle.