Are you looking for an easy, stress-free way to stick to your ketogenic diet? Don't wait and see! We've listed our top 5 lazy keto recipes that are sure to satisfy your hunger without ruining your diet. These recipes are easy, quick, and require minimal effort – perfect for those busy weekday evenings when you don't have the time (or energy!) to spend hours in the kitchen.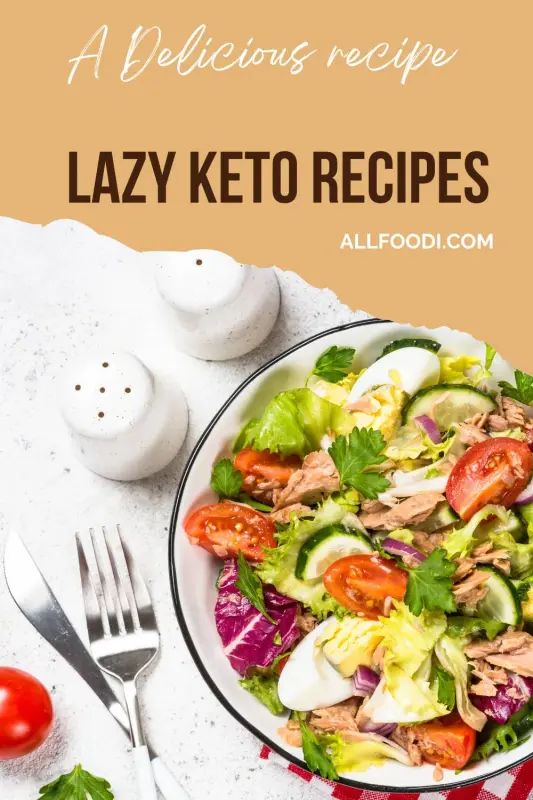 Why you love Easy Lazy Keto Recipes:
1. Lazy keto recipes are easy and quick to make.
2. they are cost-effective as they require fewer ingredients than traditional recipes.
3. the meals are nutrient-dense and provide a balanced ratio of macronutrients for those following a ketogenic diet.
4. due to their high-fat content, they can also help reduce appetite and thus weight loss
5. Lazy keto recipes have many delicious possibilities for more culinary creativity, even with limited ingredients and time.
Are you looking for an easy and nutritious dinner that is both delicious and quick? Then Keto Sheet Pan Dinner is just what you need! This one-pot meal contains all the essential flavors, nutrients, and ingredients you need for a complete meal. It's made up of a variety of proteins, vegetables, and healthy fats that help provide your body with essential vitamins and minerals while keeping carbohydrates low
Keto Sheet Pan Dinner recipe
This Keto Sheet Pan Dinner recipe is an easy and delicious way to make a healthy meal for four people. Made with chicken, cauliflower, broccoli, red bell peppers, and red onion, it's a low-carb and gluten-free dinner that's ready in just 25 minutes. Follow this simple recipe for a quick and satisfying weeknight meal that's perfect for a keto diet.
Ingredients
4 boneless, skinless chicken breasts
1 medium cauliflower, cut into small florets
1 medium broccoli, cut into small florets
2 red bell peppers, cut into strips
1 red onion, sliced
2 tablespoons olive oil
1 teaspoon of salt
1/2 teaspoon black pepper
1/2 teaspoon paprika
1/2 teaspoon garlic powder
Instructions
Set the oven temperature 200°C. for Preheat.
Add in a bowl olive oil, pepper ,salt, garlic powder and mix with eachother.
Add the chicken breasts and toss to coat well.
Now put the boneless chicken breast on a oven baking sheet lined with parchment paper.
In the same bowl, add the cauliflower and broccoli florets, the strips of red peppers and red onion, and toss to coat them well with the remaining olive oil and spices.
Arrange the vegetables around the chicken breasts on the baking sheet.
Set the timer of oven atleast 25 minutes, or until the chicken is cooked through and the vegetables are golden brown and tender.
Serve hot and enjoy.
2-
Easy Keto Taco Salad Recipe
This Easy Keto Taco Salad recipe is perfect for a quick and healthy meal. Made with ground beef, lettuce, tomatoes, cheese, and avocado, it's a low-carb and gluten-free salad that's ready in just 20 minutes.
Quick and Easy Keto Taco Salad Recipe
This Easy Keto Taco Salad recipe is perfect for a quick and healthy meal. Made with ground beef, lettuce, tomatoes, cheese, and avocado, it's a low-carb and gluten-free salad that's ready in just 20 minutes.
Ingredients
1 lb. ground beef
1 can black beans, drained and rinsed
1 can corn, drained
1 avocado, diced
1 jalapeno, diced
1 lime, juiced
½ cup cilantro, chopped
Salt and pepper to taste
8 taco shells or romaine lettuce leaves
Instructions
Take a large pan add the ground beef and cook over medium flame once the beef is golden brown. Drain any excess grease.
Now Add the black beans, corn, avocado, jalapeno, lime juice, cilantro, and salt and pepper to taste. Stir to combine.
To prepare the taco salad in the taco shells or lettuce leaves: fill each shell with a portion of the mixture.
Serve immediately.
3-
Lazy Keto Chicken Alfredo
The ketogenic diet has been gaining popularity lately as a way to lose weight and stay healthy. Lazy Keto Chicken Alfredo is a delicious and easy dish that is perfect for anyone looking to board the Keto train. This one-pot meal combines a high-fat creamy sauce with protein-rich chicken and fiber-rich vegetable alternatives.
Lazy Keto Chicken Alfredo
When it comes to a quick, low-carb dinner option, Lazy Keto Chicken Alfredo is the perfect solution. This easy-to-make recipe uses only a handful of ingredients and takes just minutes to make. With this delicious dish, you can satisfy your craving for creamy alfredo sauce without having to worry about going off your diet plan.
Ingredients
3 boneless, chicken breasts
Salt and pepper, to taste
2 tbsp olive oil
1/2 cup heavy cream
1/2 cup grated Parmesan cheese
1/4 cup unsalted butter
2 cloves garlic, minced
1/2 tsp dried basil
1/2 tsp dried oregano
1/4 tsp red pepper flakes
Instructions
First of all, take the chicken breast and put the salt and pepper.
In a pan add the olive oil and heat the medium flame. Now add the chicken breast to the pan and cook for 6 minutes per side, or until cooked through.
Now take a separate saucepan, add the butter to a pan, and melt the medium flame. Add the garlic and cook for 1-2 minutes, or until fragrant.
Add the heavy cream and cook, Parmesan cheese, basil, oregano, and red pepper flakes, until the cheese has melted and the sauce is smooth.
Serve the chicken with the Alfredo sauce spooned over the top.
4-
Healthy fruit pizza recipe cream cheese
If you're looking for a tasty, healthy snack that's sure to be a hit with kids and adults alike, then this fruit pizza recipe with cream cheese is the perfect solution! This easy-to-prepare dish is full of nutritious fruits like apples, bananas, and grapes covered in cream cheese frosting. Not only is it full of flavor, but this fruit pizza is also low in calories and fat – making it an ideal snack or dessert option.
5-
keto breakfast sandwich
This Keto Breakfast Sandwich is a delicious and satisfying way to start your day! It features a fluffy scrambled egg, creamy avocado, crispy bacon, and melty cheese, all sandwiched between two slices of bread (or a keto-friendly alternative). The combination of protein, healthy fats, and fiber makes this sandwich a nutritious and energizing meal that will keep you feeling full and satisfied all morning. It's also quick and easy to prepare, making it perfect for busy mornings or lazy weekends. Enjoy this Keto Breakfast Sandwich as is or with your favorite low-carb toppings for a tasty and satisfying breakfast that fits perfectly into your keto lifestyle.
keto breakfast sandwich
Breakfast is often thought of as the most important meal of the day and for those on the keto diet, it can sometimes be difficult to find a satisfying breakfast option. However, with a little creativity, you can enjoy a delicious keto-friendly breakfast sandwich. This article will provide an overview of the ingredients and steps needed to prepare a keto-friendly breakfast sandwich.
Ingredients
2 slices of bread
2 tablespoons cheese
1 egg
1/2 avocado
1 slice of bacon
Instructions
Start by heating the bacon in a skillet. Once cooked, remove from the heat and place on one of the slices of bread.
Spread the cheese over the bacon and then crack an egg into the center of the cheese.
Slice the avocado and place it on top of the egg.
Put the second slice of bread on top and press down to seal everything inside.
Enjoy health sandwich.
Nutrition Information:
Amount Per Serving:
Calories:

399