Best Roasted brussels sprouts and sweet potatoes
Welcome to allfoodi Today we are going to make Roasted Brussels sprouts and sweet potatoes are an easy, delicious, and healthy side dish that is sure to liven up any meal. Perfect for a family dinner or a holiday feast, this recipe combines the earthy flavors of Brussels sprouts with the sweetness of sweet potatoes. With its simple ingredients and minimal preparation time, this dish is a great way to introduce your family to nutritious vegetables in an appealing way.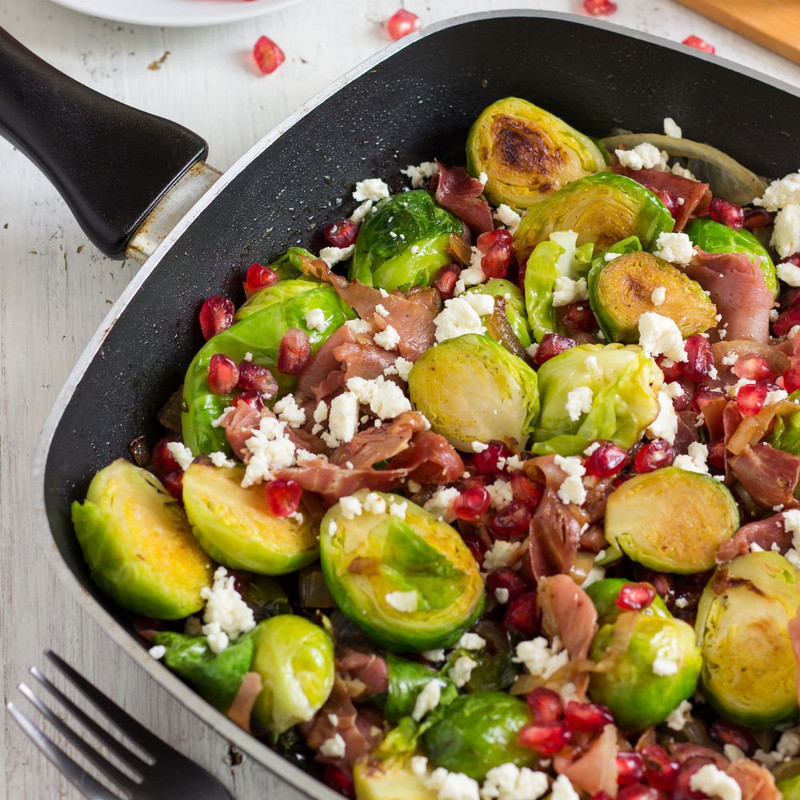 Why You'll love roasted brussels sprouts
1. Roasted brussels sprouts and sweet potatoes are a healthy, nutrient-rich side dish.
2. Roasting brings out the natural sweetness of both vegetables.
3. The combination of brussels sprouts and sweet potatoes offers a well-balanced flavor profile.
4. Both vegetables are easy to prepare and can be cooked in the oven or stovetop with minimal effort.
5. Roasting these two together is a great way to save time and energy when preparing meals for large groups.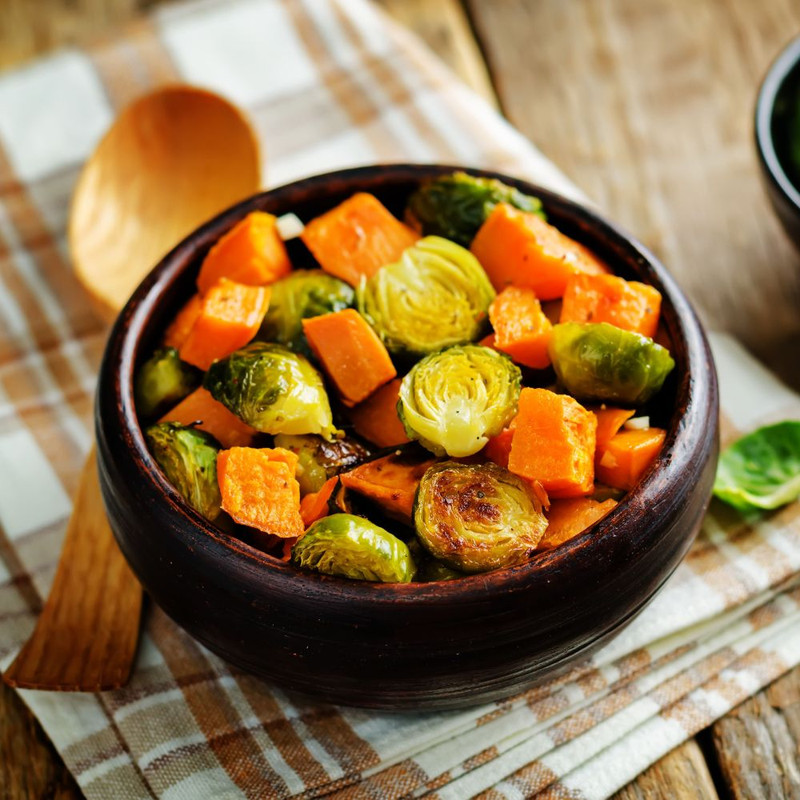 How to Make roasted brussels sprouts and sweet potatoes
Roasted brussels sprouts and sweet potatoes is a simple and delicious side dish that can be served for any meal. It's easy to make, requires minimal ingredients, and only takes about 30 minutes to prepare. Here's how you make it:
Start by preheating the oven to 400°F (204°C). Cut the sweet potatoes into cubes or wedges, depending on your preference, then place them in a large bowl. Next, cut the brussels sprouts in half lengthwise and add them to the same bowl as the sweet potatoes. Toss with olive oil, salt and pepper until everything is evenly coated.
Spread out the vegetables onto a rimmed baking sheet lined with parchment paper or aluminum foil. Roast in the oven for 15 minutes. Flip the sweet potatoes and brussels sprouts with a spatula and roast for another 10 minutes. Remove from the oven, sprinkle with chopped parsley, and serve warm.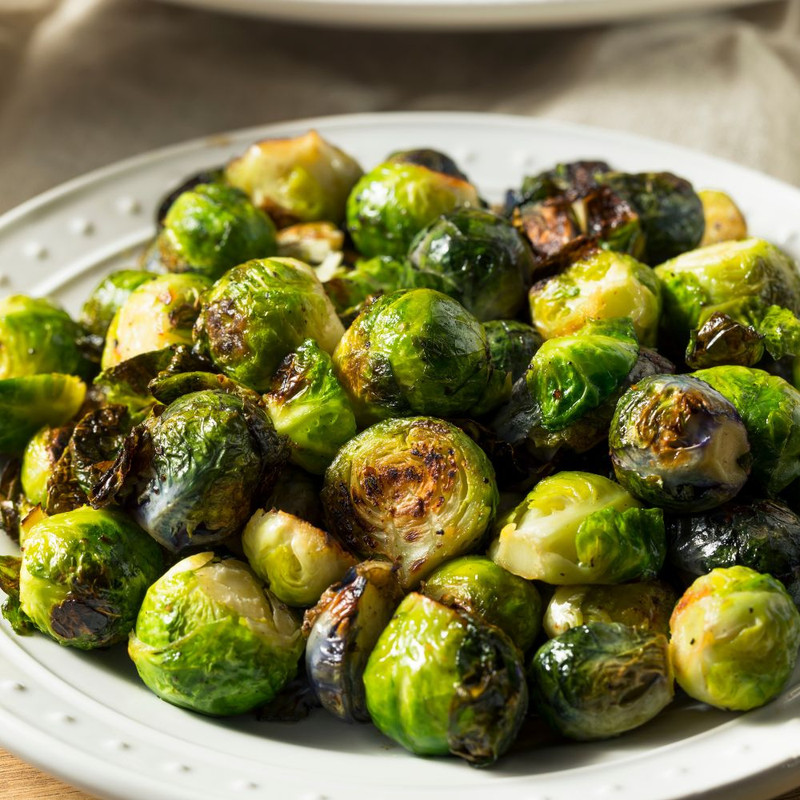 why are my roasted brussel sprouts not crispy?
There could be a few reasons why your Roasted brussels sprouts and sweet potatoes aren't coming out crispy. Make sure you're using enough oil, and that it's hot enough before adding the sprouts. You should also spread them out in a single layer on the baking sheet so they have room to crisp up. Lastly, make sure you're not overcooking them – roasting for too long can make them soggy.
Do you roast brussel sprouts covered or uncovered
It depends on how you prefer your brussel sprouts. If you like them crispy, then it's best to roast them uncovered. If you prefer them softer, then cover the pan with foil for part of the cooking time. Roasting times will vary depending on the size of the brussel sprouts and your oven temperature, so keep an eye on them and adjust accordingly.
What To Serve with roasted brussels sprouts and sweet potatoes
Serving roasted Brussels sprouts with sweet potatoes is a great way to enjoy a nutritious and balanced side dish. For an added touch of flavor, consider pairing your vegetables with other complementary ingredients.
A hint of additional sweetness can be achieved by roasting some pecans or pine nuts alongside the Brussels sprouts and sweet potatoes. Alternatively, for a savory accompaniment, try adding crumbled bacon or sautéed mushrooms to the mix. Dried cranberries are another tasty option that will add color and texture to your side dish.
For a heartier main course, serve the roasted vegetables over creamy polenta or tuna salad recipe. A sprinkle of Parmesan cheese is also an excellent addition that will add richness and flavor to any meal.
Chef's Tips roasted brussels sprouts:
Roasting Brussels sprouts is a great way to bring out their flavor.
To ensure your sprouts are perfectly cooked, Chef recommends preheating the oven to 375 degrees Fahrenheit and lining a baking sheet with parchment paper.
Trim off the stems of the brussels sprouts, remove any outer leaves that look wilted or discolored, then cut them in half lengthwise.
Place the prepared sprouts onto the lined baking sheet and toss them in olive oil, salt, pepper and any other desired seasonings.
Bake for 30 minutes or until golden brown on the outside and soft on the inside.
Serve as an accompaniment to sweet potatoes for a delicious side dish.
Roasted brussels sprouts and sweet potatoes : FREQUENTLY ASKED QUESTIONS
Can i roast brussels sprouts ahead of time
Yes, you can roast Brussels sprouts ahead of time. To do so, preheat the oven to 400 degrees Fahrenheit and toss the Brussels sprouts with oil and seasonings. Place them on a baking sheet in a single layer and bake for 25 minutes or until they are golden brown. Allow the sprouts to cool completely before storing them in an airtight container in the refrigerator for up to 3 days.
can i roast frozen brussels sprouts
Yes, you can roast frozen brussels sprouts. Preheat your oven to 425°F and spread the frozen brussels sprouts on a baking sheet. Drizzle with olive oil and season with salt and pepper. Roast for about 25 minutes, stirring halfway through, until they are crispy and golden brown. Enjoy!
How long do i roast brussels sprouts
Roasting brussels sprouts is a great way to bring out their flavor. Generally, you should roast them for about 25-30 minutes at 400°F. Be sure to shake the baking sheet every 10 minutes or so to ensure even cooking.
Is brussel sprouts a root vegetable
No, brussels sprouts are not a root vegetable. They are actually part of the cabbage family and are classified as a leafy green vegetable. They grow on a stalk and have a small round shape resembling mini cabbages.
Are roasted brussels sprouts healthy
Yes, roasted brussels sprouts are a healthy food choice. They are high in fiber, vitamins and minerals. They are also low in calories and fat. Roasting them adds flavor, but does not significantly reduce their nutritional value. Eating brussels sprouts can help you meet your daily nutrient needs and support overall health.
why brussels sprouts are bitter?
Brussels sprouts are bitter due to the presence of a compound called glucosinolate. This compound is responsible for their bitter flavor and also provides some health benefits, such as aiding in digestion and helping to fight cancer. Cooking Brussels sprouts can help reduce the bitterness, as well as adding other ingredients like lemon juice or balsamic vinegar.
STORAGE INSTRUCTIONS:
To store roasted brussels sprouts and sweet potatoes, keep them in an airtight container in the refrigerator for up to 4 days. Reheat in a 350°F oven for about 10 minutes or until heated through. Enjoy.
Roasted brussels sprouts and sweet potatoes
Roasted Brussels sprouts and sweet potatoes make for a delicious, nutritious, and easy-to-prepare meal. Whether you are looking for a quick weekday dinner or an impressive side dish to serve at your next gathering, this combination of flavors is sure to please everyone.
Ingredients
1

pound

brussels sprouts

1

sweet potato

2

cloves

garlic, smashed

1

olive oil

tablespoon

1 teaspoon cumin

salt and pepper to taste
Instructions
1. Preheat oven to 425 degrees Fahrenheit. 

2. Cut the brussels sprouts and sweet potato into bite-sized pieces. 

3. In a large bowl, combine the brussels sprouts, sweet potato, olive oil, cloves garlic, cumin, salt and pepper. Toss to coat. 

4. Spread the mixture onto a baking sheet and bake for 20 minutes, or until potatoes are tender and Brussels sprouts are crispy.
Video
Summary
Recipe Name
Roasted brussels sprouts and sweet potatoes
Author Name
Published On
Preparation Time
Cook Time
Total Time
Average Rating
Based on 1 Review(s)