Easy Red Velvet Cake With Buttermilk
This recipe Red Velvet Cake gift from Allfoodi. I know this is the classic dessert, and also many of your favourite dishes. It is very simple to make red velvet cake you can easily at home. However, there are different recipes that call for buttermilk, but it can be difficult for real and authentic recipes or may not be recommended by some. But this dessert is tasty and has different variations of red velvet cake, which don't need to make with buttermilk. It is optional if you don't like you can skip , rest of the recipe is same. I like the buttermilk I'm going to use in my recipe.
In this recipe, we will explore how to make a delicious Red Velvet Cake with buttermilk, so you can enjoy this indulgent treat no matter what ingredients you have on hand.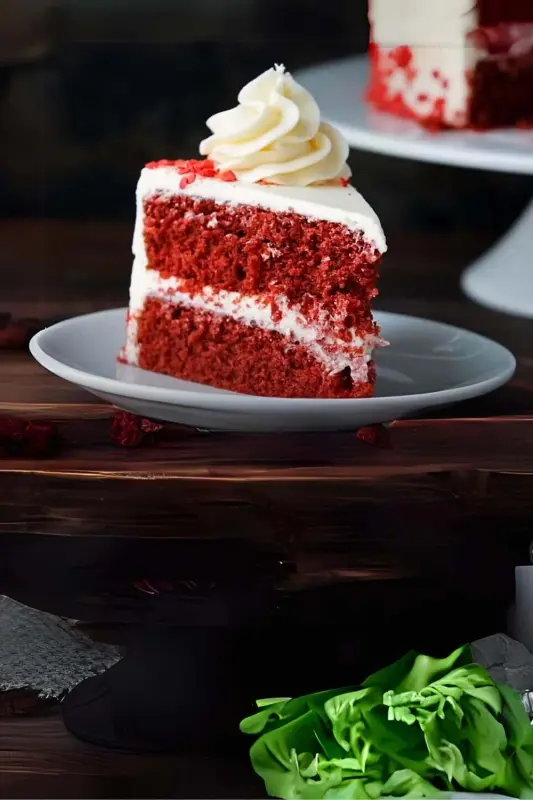 In This Post
Why I Love This Red Velvet Cake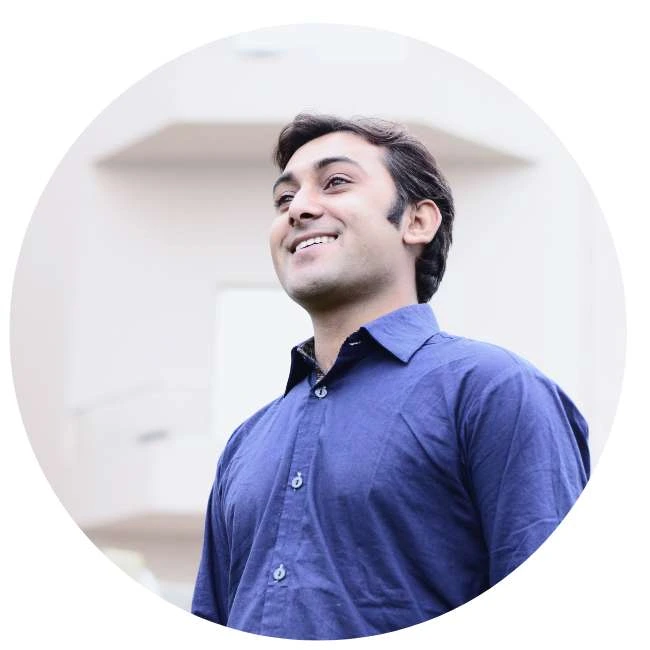 Imagine stepping into your kitchen, and being greeted by the irresistible scent of a just-baked red velvet cake. This recipe holds a special place in my heart because it captures the essence of a classic red velvet cake without buttermilk.
I wanted to create a cake with a soft, velvety texture and a perfect balance of flavours. Traditional red velvet cake recipes often use buttermilk for a tangy kick, but I aimed to make a version suitable for those with lactose sensitivities or situations where buttermilk isn't on hand.
The genesis of this recipe involved experimenting with classic red velvet cake techniques, giving it a unique twist. I strived to keep the soul of the original recipe while making it accessible and enjoyable for everyone, much like crafting a straightforward, beloved dish.
The result is a red velvet cake with a rich, chocolatey flavour and a subtle hint of acidity, providing the perfect canvas for a smooth cream cheese frosting. The lack of buttermilk doesn't compromise the moistness; instead, it enhances the overall richness of the cake.
This red velvet cake is more than just a dessert; it's a celebration of flavours, showcasing the joy found in the simplest ingredients. It's a crowd-pleaser suitable for any occasion, offering a slice of comfort and indulgence with every bite.
And here's a little secret: I've also experimented with turning this red velvet cake into a delightful casserole, sometimes adding a layer of cream cheese or other creative toppings. Stay tuned, as I plan to share that variation with you very soon, adding a touch of excitement to your baking adventures.
How to make Red velvet Cake with buttermilk
PREPARATION
◉ Preheat the oven to 350 degrees Fahrenheit.
◉ Grease two nine-inch cake pans with butter and dust with flour.
MAKING THE CAKE BATTER
◉ Combine 2.5 cups of all-purpose flour, 2 tablespoons of unsweetened cocoa, 1 teaspoon of baking soda, and 0.5 teaspoons of salt. Whisk.
◉ Sift the dry ingredients for a soft and fluffy cake crumb.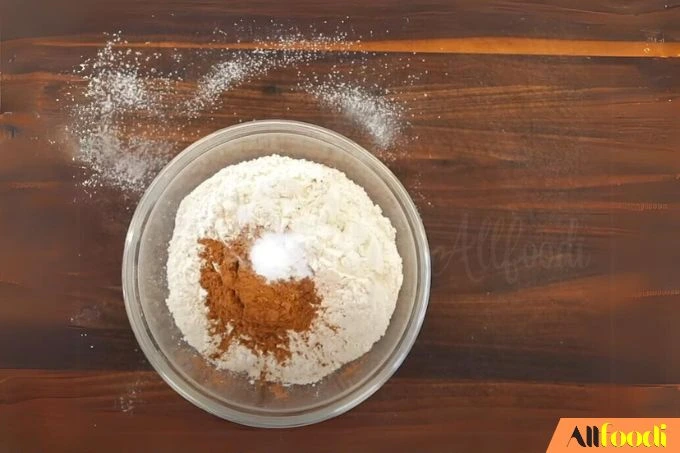 MIXING
◉ In a large mixing bowl, cream 0.5 cups of softened unsalted butter and 1.5 cups of sugar until powdery.
◉ Add room temperature eggs one at a time, then mix in 2 teaspoons of vanilla extract.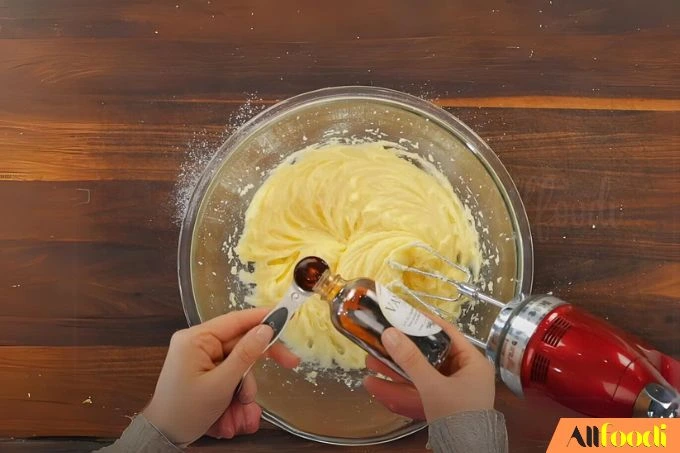 FOOD COLOR
◉ "With the mixer on, add 0.75 cups of vegetable oil to 1 cup of room temperature low-fat buttermilk (optional) mixed with 1 teaspoon of white vinegar.
◉ Add the buttermilk mixture, and blend until smooth. if you don't like you can skip buttermilk I like that's why I'm adding.
◉ Add sifted dry ingredients, mix on low until evenly moist.
◉ Add 0.5 teaspoons of red gel food colouring, mix until the batter is uniformly red.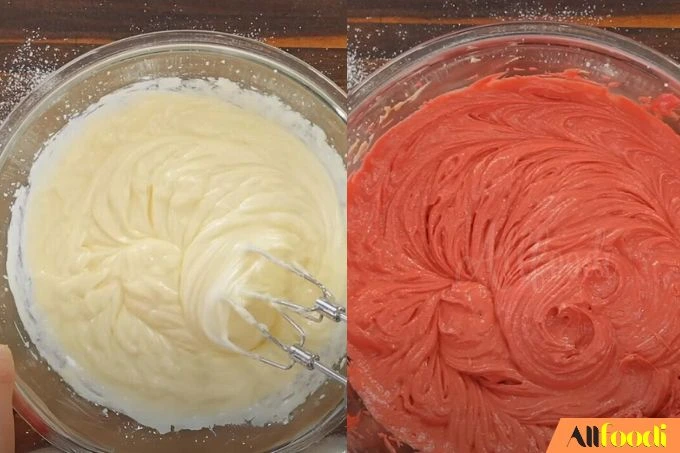 BAKING THE CAKE
◉ Transfer batter evenly into the prepared pans.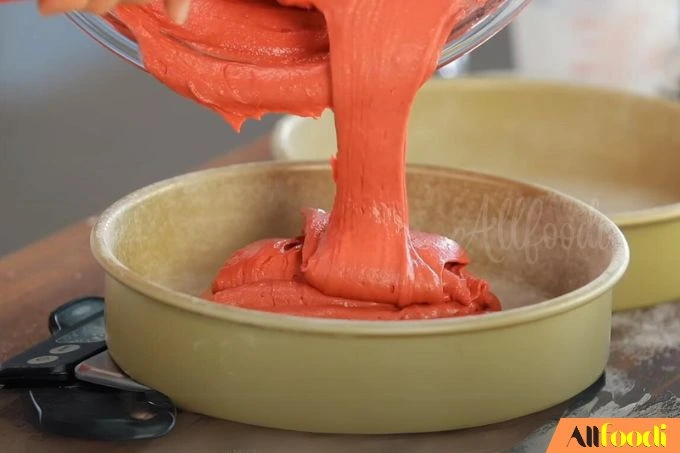 PLACE THE PAN IN THE OVEN
◉ Bake at 350°F for about 30 minutes.
◉ Check for doneness with a toothpick; it should come out clean.
◉ Let layers rest for 20 minutes, then transfer to a wire rack to cool completely.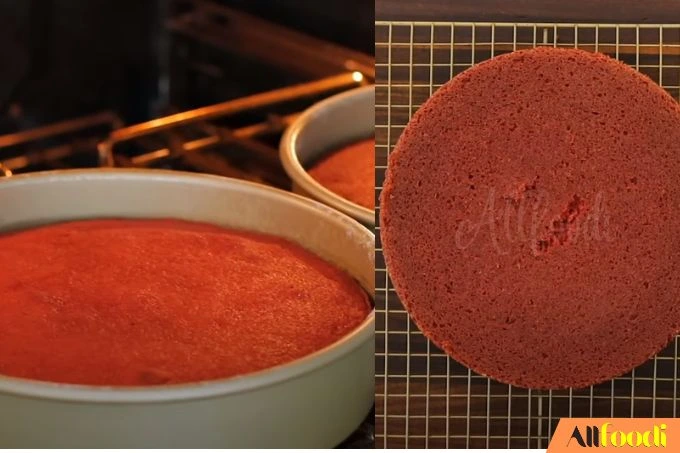 CREAM CHEESE FROSTING
◉ For frosting, beat 1.5 cups of softened butter until smooth.
◉ Add room temperature cream cheese; beat until well incorporated.
◉ Add 1 tablespoon of vanilla extract, a pinch of salt, and gradually add 4 cups of powdered sugar.
◉ Beat on high speed until the frosting is whipped, thick, and spreadable.
ASSEMBLING THE CAKE
◉ Place the first layer on a serving platter; spread a generous amount of frosting.
◉ Add the second layer upside down for a smooth surface.
◉ Apply a thin crumb coat, then add a thicker layer for an even coating.
◉ Clean the base of the platter; transfer the remaining frosting to a piping bag fitted with a large open star tip.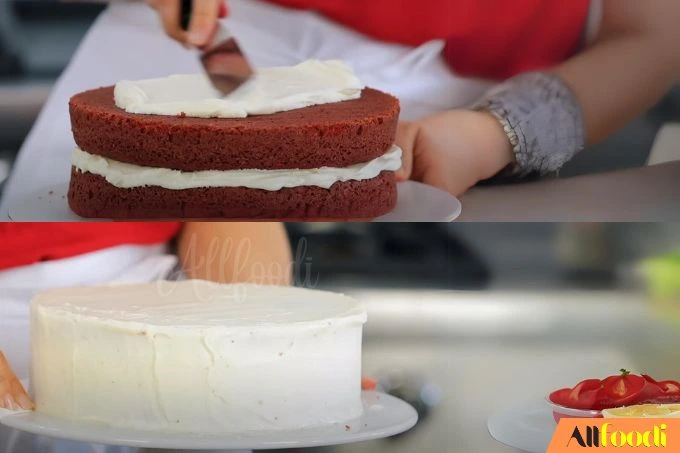 DECORATING THE CAKE
◉ Decorate with red sprinkles around the top border and bottom edge.
◉ Add red sanding sugar for extra flair.
◉ Pipe rosettes or puffs of chilled frosting on the top.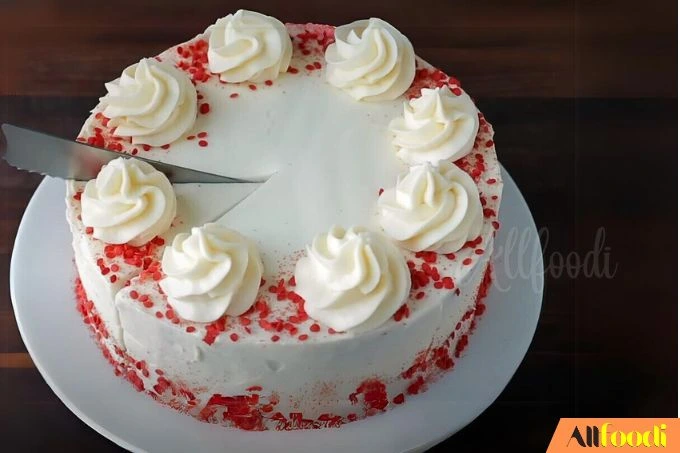 ENJOY
◉ Refrigerate the cake for about an hour to firm up the frosting.
◉ Now, it's ready to be enjoy the red velvet cake with buttermilk.