Vanilla Cake Recipe Without Buttermilk – A Chef's Delight
Introducing a delightful vanilla cake recipe without buttermilk. This moist and flavorful cake offers versatility for various frostings and decorations. Using common ingredients like all-purpose flour, baking powder, eggs, sugar, butter, vanilla extract, and milk, it's easy to whip up this delectable treat. Whether you prefer classic buttercream, whipped cream with berries, tangy lemon cream cheese frosting, or indulgent chocolate ganache, this cake can accommodate it all. The secret lies in the careful combination of quality vanilla extract and vanilla bean seeds, resulting in a rich and aromatic experience. Unleash your creativity by adding edible flowers, sprinkles, or chocolate shavings for a truly eye-catching centerpiece.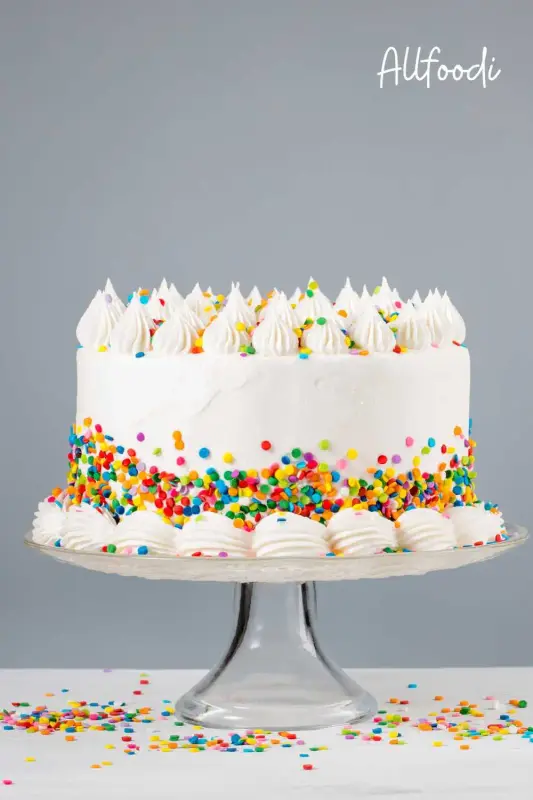 What Makes Vanilla Cake Recipe Without Buttermilk So Good:
Moisture Magic: A recipe for a moist and tender cake that melts in your mouth.
Intense Vanilla Flavor: A rich and aromatic cake achieved through a careful combination of quality vanilla extract and vanilla bean seeds.
Perfectly Balanced Sweetness: A harmonious balance of sweetness and subtlety, appealing to all palates.
Versatile and Customizable: A vanilla cake that serves as a blank canvas for experimenting with different frostings and decorations, suitable for any occasion.
Family-Friendly Delight: A beloved vanilla cake that guarantees smiles and satisfaction across all age groups.
Chef's Tips:
Room temperature ingredients: This helps in achieving a smoother and well-incorporated batter. The fats and sugars will cream together more easily when they are at room temperature, and the eggs will incorporate more evenly.
Creaming method: This step adds air to the mixture, resulting in a lighter and softer cake. The longer you cream the butter and sugar together, the more air you will incorporate.
Gradual flour incorporation: This helps to prevent overmixing, which can toughen the cake. Adding the dry ingredients in batches also helps to distribute them evenly throughout the batter.
Don't overbake: Overbaking can lead to a dry and crumbly texture. A toothpick inserted into the center of the cake should come out with a few moist crumbs.
Cooling and frosting: Allow the cake to cool completely before frosting to prevent the frosting from melting. For a more professional touch, consider applying a crumb coat before the final frosting layer.
Ingredients in My Best Vanilla Cake Recipe:
All-purpose flour: Provides structure and moisture to the cake while maintaining a neutral flavor.
Baking powder: Helps the cake rise by creating carbon dioxide bubbles when reacting with moisture in the batter.
Granulated sugar: Adds sweetness and tenderizes the cake by easily dissolving in the batter.
Butter: Adds richness and flavor to the cake while helping to retain moisture.
Eggs: Contribute to the cake's structure and moisture, resulting in a light and airy texture.
Pure vanilla extract: Enhances the cake with flavor and aroma, derived from dried vanilla bean pods.
Vanilla bean: Adds intense flavor and aroma to the cake as the source of vanilla extract.
Whole milk: Adds moisture and richness to the cake without overpowering other ingredients.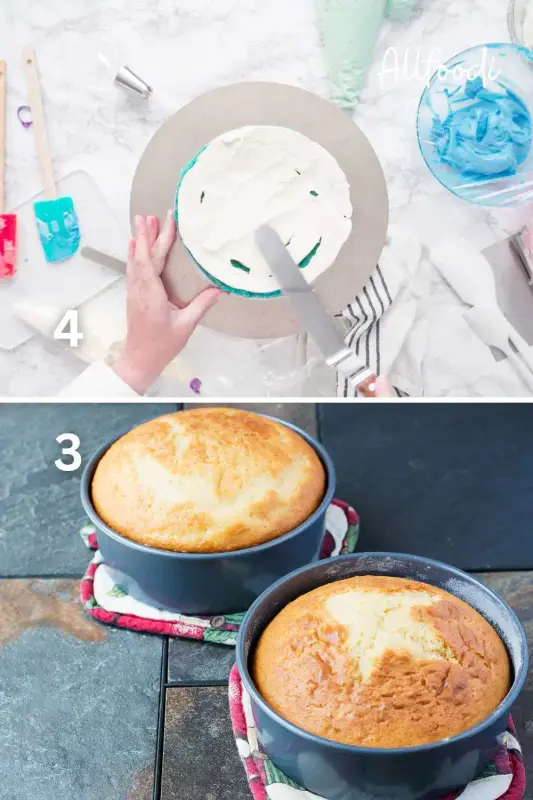 How to Make Vanilla Cake Recipe Without Buttermilk:
Preheat your oven to 350°F (175°C) and grease two 9-inch round cake pans.
In a medium bowl, whisk together the flour, baking powder, and salt. Set aside.
In a large mixing bowl, cream together the softened butter and sugar until light and fluffy.
Add the eggs, one at a time, beating well after each addition. Mix in the vanilla extract and vanilla bean seeds.
Gradually add the dry ingredients to the creamed mixture, alternating with the milk, beginning and ending with the dry ingredients. Mix until just combined.
Divide the batter evenly between the prepared pans and smooth the tops with a spatula.
Bake in the preheated oven for 25-30 minutes, or until a toothpick inserted into the center comes out clean.
Remove from the oven and let the cakes cool in the pans for about 10 minutes. Then transfer them to a wire rack to cool completely.
Ideas for Frosting and Decorating Vanilla Cake:
Classic Vanilla Buttercream: Creamy and smooth frosting made with butter, powdered sugar, vanilla extract, and milk. Perfect for a traditional treat.
Whipped Cream and Berries: Lighter option with freshly whipped cream and seasonal berries. Refreshing and tangy.
Lemon Cream Cheese Frosting: Zesty twist with a bright and tangy lemon cream cheese frosting. Ideal for summer.
Chocolate Ganache Drizzle: Velvety chocolate ganache drizzled over the cake. Heavenly combination for chocolate lovers.
Decorative Touches: Embellish with edible flowers, sprinkles, or chocolate shavings for an eye-catching presentation. Let your creativity shine.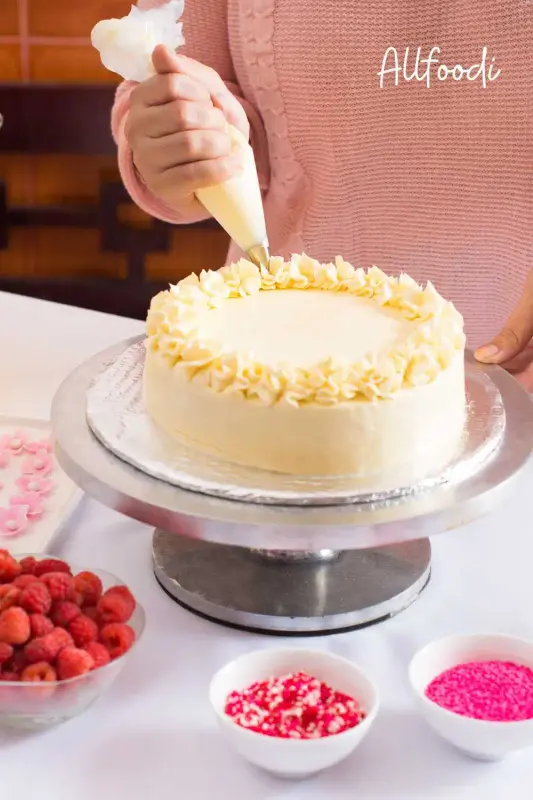 Other Cake Recipe You may like:
Summary
Reviewer
Review Date
Reviewed Item
Vanilla Cake Recipe Without Buttermilk
Author Rating
Recipe Name
Vanilla Cake Recipe Without Buttermilk