This tri-colored spiral pasta salad recipe is a vibrant and flavorful dish that combines various vegetables with a zesty Italian dressing. The recipe begins by cooking the pasta until it is perfectly al dente, then rinsing it under cold water to stop the cooking process. Meanwhile, a mixture of Italian-style salad dressing and salad seasoning mix is whisked together to create a smooth and tangy dressing. The pasta is then tossed with cherry tomatoes, green bell pepper, red bell pepper, yellow bell pepper, and chopped black olives in a large salad bowl. The prepared dressing is poured over the salad, thoroughly coating all the ingredients. Finally, the salad is refrigerated for a minimum of 8 hours or overnight, allowing the flavors to meld together. Once chilled, this refreshing and colorful pasta salad is ready to be enjoyed.
Pasta salad has secured its place as a beloved dish among food enthusiasts for its versatility and refreshing qualities. With vibrant colors, enticing flavors, and endless customization options, pasta salad has become a go-to option for casual cooks and culinary enthusiasts alike. In this comprehensive guide, we will delve into the secrets of crafting the perfect pasta salad. From selecting the ideal ingredients to mastering the art of dressing, this recipe will provide you with expert tips and techniques to elevate your pasta salad game.
This recipe is designed to showcase the vibrant flavors and textures that define a fantastic pasta salad recipe.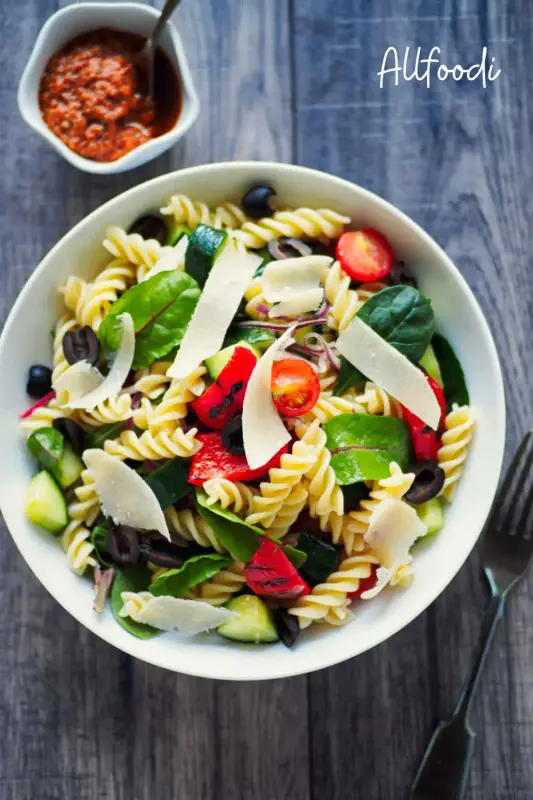 What makes this pasta salad recipe taste so delicious and special:
Versatile and customizable
Easy to make,
Refreshing and cooling,
Great for leftovers,
A crowd-pleaser at any gathering.
Secret Tips for Perfect Pasta Salad:
To ensure your pasta salad is a resounding success, here are some secret tips from seasoned chefs:
Season the pasta from the beginning: Salting the pasta water is crucial as it seasons the pasta from the inside out, building flavor.
1

Choose the right pasta shape and size: Opt for short pasta cuts like macaroni, rotini, or farfalle for cold pasta salads. Their small shape complements other ingredients and ensures a visually appealing dish that's easy to eat.

2

Cook pasta to al dente: Avoid overcooking the pasta by following the package instructions, but typically cook it for two minutes less than recommended. Al dente pasta adds a pleasant texture to the salad.

3

Time out the preparation: Prepare the pasta salad ahead of time, allowing the flavors to meld. If necessary, add the additional dressing before serving to refresh the flavors.

4

Make a fresh dressing: Elevate your pasta salad by crafting a homemade dressing instead of relying on store-bought options. Freshly made dressings enhance the overall taste and quality of the dish.

5

Choose fresh, colorful ingredients: Incorporate fresh herbs like basil, cilantro, or mint to add bursts of flavor and visual appeal. Colorful veggies such as peppers, zucchini, yellow squash, and tomatoes create an eye-catching presentation.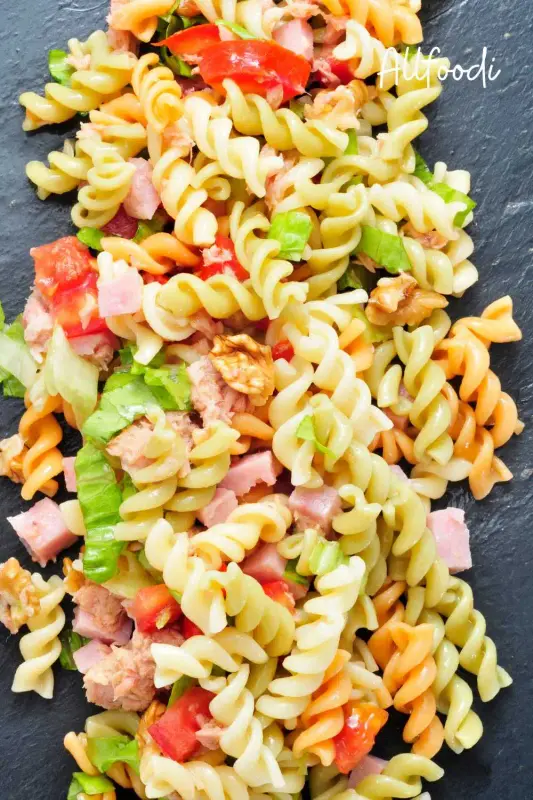 Types of Pasta:
Spaghetti: Long, thin cylindrical pasta.
Penne: Short, cylindrical pasta with diagonally cut ends.
Fusilli: Spiral-shaped pasta with a twisted or corkscrew-like appearance.
Farfalle: Bow-tie-shaped pasta with a decorative, folded appearance.
Linguine: Long, flat pasta similar to spaghetti but narrower.
Ravioli: Square or round pasta pockets filled with various fillings, such as cheese or meat.
Lasagna: Flat, wide pasta sheets often used in layered baked dishes.
Orzo: Small, rice-shaped pasta.
Rigatoni: Short, wide pasta tubes with ridges on the outer surface.
Pasta Recipe You May Like:
As we explore the world of pasta salad, it's worth venturing into other tantalizing recipes that showcase the versatility of this delightful dish. Here are a few additional pasta salad recipes to broaden your culinary repertoire:
Chicken Pasta with Zucchini: This recipe brings together succulent chicken and tender zucchini for a light and flavorful pasta salad. The combination of protein and vegetables adds depth and complexity to the dish, making it a wholesome option for any occasion.
Penne Pasta Recipe with Chicken: Indulge in the rich flavors of penne pasta combined with tender chicken. This hearty pasta salad is perfect for those seeking a satisfying and comforting meal. The marriage of penne pasta and succulent chicken creates a delightful harmony of flavors.
Beef and Pasta Recipes: For meat lovers, incorporating ground beef into a pasta salad adds a savory twist. With the right combination of spices and ingredients, you can create a hearty and flavorful pasta salad that will leave everyone asking for seconds.
Pesto Pasta Salad with Vegetables: Explore the vibrant flavors of pesto combined with fresh vegetables in this refreshing pasta salad. The aromatic basil and tangy dressing create a burst of flavor that will tantalize your taste buds.
Frequently Asked Questions:
How does Gordon Ramsay make pasta salad?
Gordon Ramsay's pasta salad recipe often includes fresh ingredients like cherry tomatoes, olives, and herbs, along with a tangy dressing made from lemon juice, olive oil, and Dijon mustard. He emphasizes the importance of using high-quality ingredients and balancing flavors for a refreshing and delicious pasta salad.
Why is pasta salad better the next day?
Pasta salad benefits from resting in the refrigerator overnight as it allows the flavors to meld and intensify. The pasta absorbs the dressing, resulting in a more flavorful and cohesive dish. Additionally, the ingredients have time to marinate and develop a deeper taste profile.
How do you keep pasta salad fresh?
To keep pasta salad fresh, store it in an airtight container in the refrigerator. If the salad appears dry after chilling, you can add a small amount of dressing or olive oil and toss to refresh the flavors. It's recommended to consume the pasta salad within 2-3 days for optimal taste and texture.