Paneer Tikka recipe on Tawa
If you're a fan of Indian cuisine, then the Paneer Tikka recipe is an absolute must-try dish. This vegetarian delicacy is a mouthwatering combination of marinated paneer (Indian cottage cheese) and an assortment of flavorful spices. The paneer cubes are skewered alongside vibrant vegetables and grilled to perfection, resulting in a smoky, charred exterior and a soft, succulent interior. In this recipe, we'll guide you step by step process of creating a Paneer Tikka recipe on tawa at home, providing you with all the necessary tips and tricks to achieve the perfect balance of flavors.
Why you'll love Paneer Tikka:
Marinade combines aromatic spices, tangy yogurt, zesty lemon juice, and fragrant herbs, creating an explosion of flavors for an exceptional dish.
Paneer Tikka is a versatile and customizable dish that can be enjoyed as an appetizer, side dish, or main course, catering to various dietary preferences.
Impress guests with its visually stunning presentation, vibrant colors, and perfect for gatherings and special occasions.
A healthy and nourishing dish loaded with protein, calcium, vitamins, and minerals.
Easy to prepare with our detailed recipe, enjoy restaurant-quality flavors at home with simple steps and guidelines.
Chef's Tips for Paneer Tikka Recipe:
Marination Magic: To ensure the flavors penetrate the paneer and vegetables thoroughly, marinate them for at least 30 minutes. For a more intense flavor, refrigerate the marinated paneer for a few hours or overnight.
Skewer Selection: Opt for skewers made of stainless steel or bamboo. If using bamboo skewers, soak them in water for 30 minutes before threading the paneer and vegetables to prevent burning during the grilling process.
Adjust Spice Levels: Feel free to adjust the spice levels according to your preference. Increase or decrease the amount of red chili powder, paprika, or green chilies to suit your taste.
Grilling Perfection: To achieve the perfect balance between a smoky charred exterior and a tender interior, grill the paneer tikka on medium-high heat. Keep a close eye on them to prevent overcooking or burning.
Experiment with Flavors: While the classic Paneer Tikka recipe is delicious on its own, don't be afraid to get creative. Add your favorite spices or herbs to the marinade or introduce a twist by incorporating different vegetables for a personalized touch.
Quick Guide How to Make Paneer Tikka:
Ingredients:
yogurt,
gram flour,
ginger-garlic paste,
turmeric powder,
red chili powder,
paprika,
garam masala,
lemon juice,
oil,
salt
How to make Paneer Tikka Recipe on Tawa Step By Step Process:
To begin, gather the following ingredients in a large mixing bowl: yogurt, gram flour, ginger-garlic paste, turmeric powder, red chili powder, paprika, garam masala, lemon juice, oil, and salt. As a cooking expert, I highly recommend using fresh ingredients for optimal flavor. Now, let's dive into the marinade preparation.
Combine all the ingredients in the bowl, ensuring a harmonious fusion of flavors. Stir them well until a smooth marinade is formed. The yogurt provides a creamy base, while the spices infuse the mixture with their aromatic essence. The gram flour acts as a binding agent, enhancing the marinade's texture. Take a moment to appreciate the heavenly aroma that fills the air as you prepare this tantalizing blend.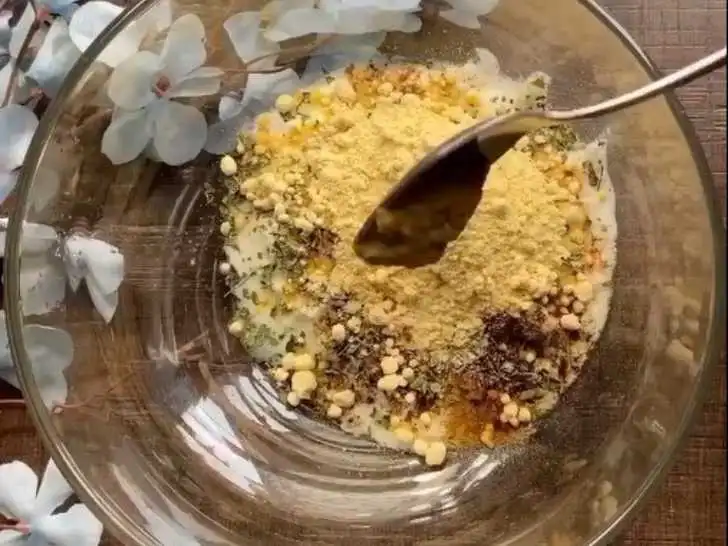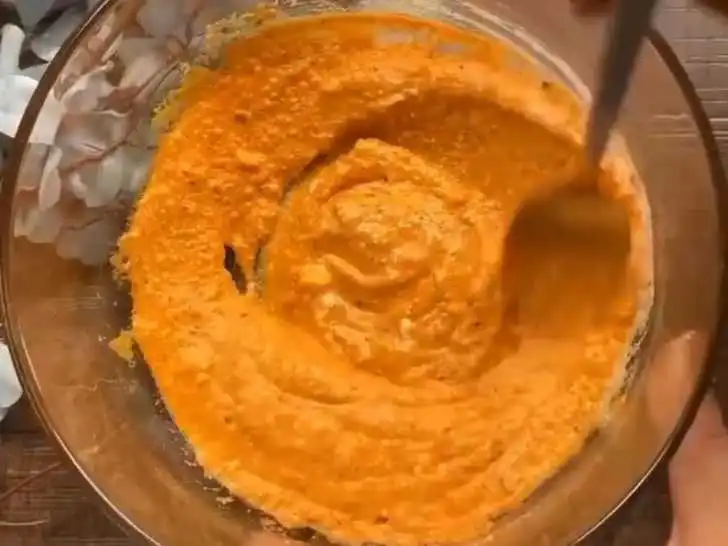 Now, it's time to introduce the star of our dish – paneer. Cut the paneer into bite-sized cubes and add them to the marinade. Alongside the paneer, we will incorporate the vibrant colors of bell peppers and onions, cut into chunks and squares, respectively. Gently toss these ingredients in the marinade, ensuring they are evenly coated. Allow the mixture to marinate for at least 30 minutes, granting the flavors ample time to permeate and elevate the taste of our Paneer Tikka.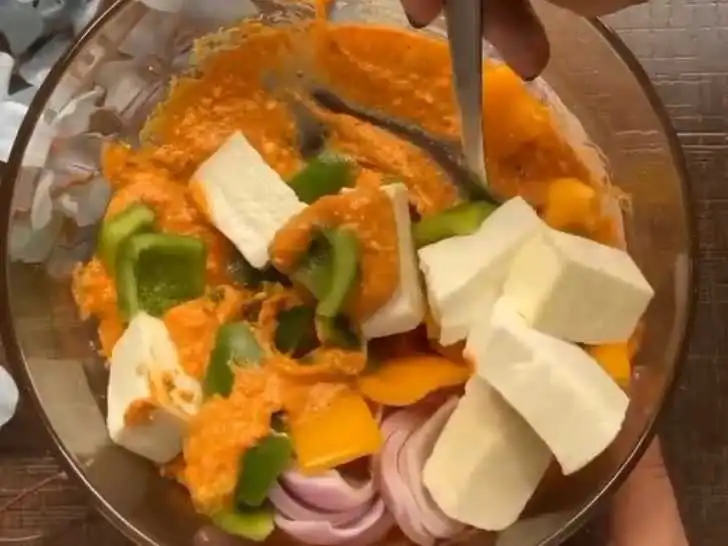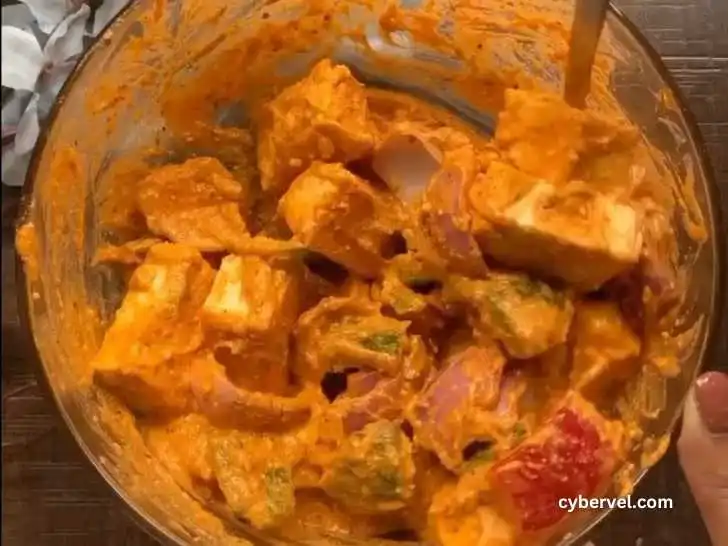 While the marinade works its magic, we can prepare our cooking equipment. Preheat your grill or Tawa to medium-high heat, readying it for the flavorful journey ahead. If using a Tawa, remember to lightly oil the grates to prevent any sticking. This attention to detail will ensure that our Paneer Tikka cooks evenly and develops a tantalizing char.
Now, the fun part begins – threading the marinated paneer, bell pepper chunks, and onion squares onto skewers. This step not only adds an artistic touch to our dish but also makes it easy to handle while grilling. Alternate between the ingredients to create an appealing visual arrangement on the skewers. The vibrant colors of the bell peppers and onions provide a delightful contrast to the creamy paneer cubes.
Place the skewers on the preheated grill, and let the cooking process commence. It's important to turn the skewers occasionally to ensure even cooking and to prevent any burning. Allow the Paneer Tikka to grill for approximately 10-12 minutes, or until the paneer and vegetables achieve the desired level of tenderness. During this time, the flavors intensify, and the ingredients develop a beautiful char, adding depth and complexity to our creation.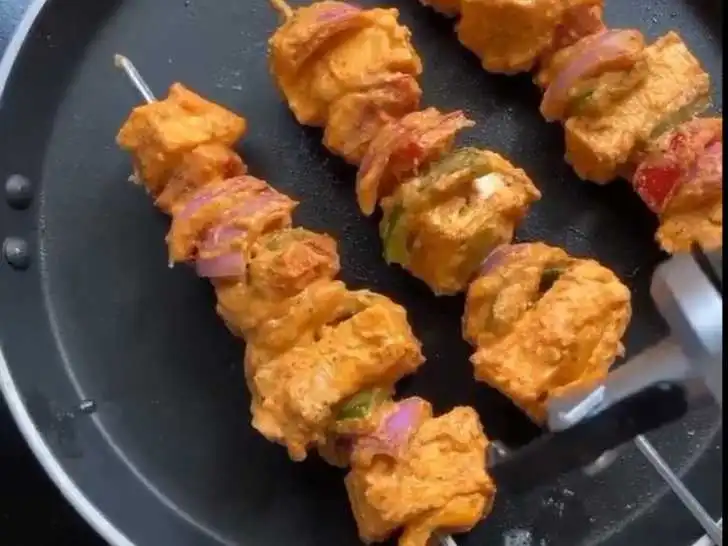 With the grilling complete, carefully remove the skewers from the heat and transfer the Paneer Tikka to a serving platter. Now, it's time to add a final touch of freshness and aroma. Garnish our dish with a generous sprinkling of fresh cilantro leaves, infusing it with a burst of vibrant green color and herbaceous fragrance.
The Paneer Tikka is now ready to be enjoyed. Serve it piping hot, allowing the tantalizing aroma to entice your guests. For an extra burst of tanginess, provide lemon wedges alongside the Paneer Tikka, allowing your guests to personalize their flavor experience.
Other Paneer Recipes You May Like:
FAQs:
Q: Can I use tofu instead of paneer?
A: Yes, you can replace paneer with tofu for a vegan alternative. Ensure the tofu is firm to prevent it from crumbling during the grilling process.
Q: Can I bake the Paneer Tikka instead of grilling?
A: Absolutely! If you don't have a grill, you can bake the marinated paneer and vegetables in a preheated oven at 400°F (200°C) for 15-20 minutes or until they are cooked through.
Q: Can I make Paneer Tikka in advance?
A: While it's best to serve Paneer Tikka immediately after grilling, you can prepare the marinade and marinate the paneer and vegetables in advance. Grill them just before serving for optimal taste and texture.
Q: What can I serve with Paneer Tikka?
A: Paneer Tikka pairs wonderfully with mint chutney, tamarind chutney, or a tangy yogurt dip. It can also be enjoyed alongside naan bread, roti, or rice.
Summary
Reviewer
Review Date
Reviewed Item
Author Rating
Recipe Name