How to make a Spinach Omelet
As a cooking expert and a passionate chef, I am thrilled to share with you my recipe for a delicious spinach omelet. This vibrant and nutritious dish combines the delicate flavors of eggs with the wholesome goodness of spinach, creating a delightful culinary experience. Packed with essential nutrients and bursting with flavor, this spinach omelet is perfect for a hearty breakfast or a quick and satisfying lunch. In this recipe, I'll guide you through the process of creating this delectable dish, providing expert tips along the way.
What's a Spinach Omelet?
A spinach omelet is a classic dish that brings together the delicate texture of beaten eggs with the vibrant green hues and earthy taste of spinach. This combination not only adds a pop of color to your plate but also enhances the nutritional value of the omelet. Spinach is an excellent source of vitamins A, C, and K, as well as iron, calcium, and dietary fiber, making it an ideal ingredient to incorporate into your meals.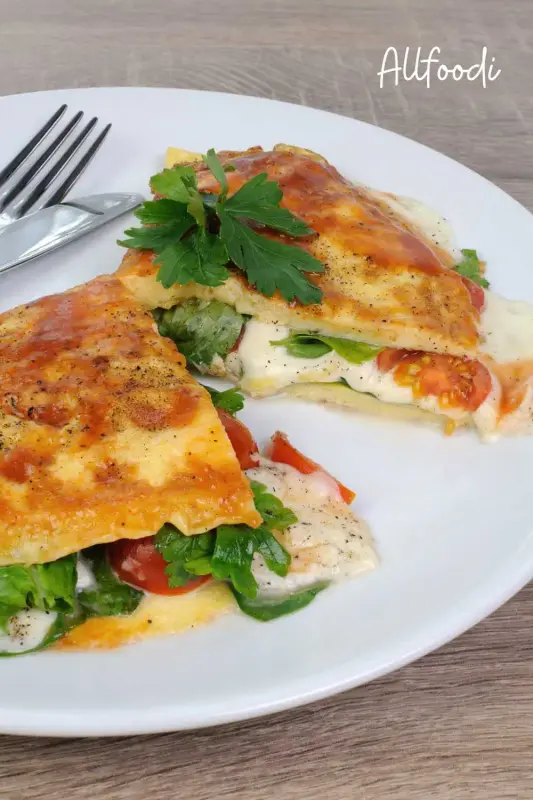 Why You'll Love This Recipe:
Nutritional Powerhouse: Spinach is known for its exceptional nutritional profile, and by incorporating it into an omelet, you'll create a wholesome and balanced meal.
Versatile and Customizable: You can easily customize this recipe by adding other ingredients such as cheese, mushrooms, or onions to suit your taste preferences.
Quick and Easy: This spinach omelet can be whipped up in no time, making it a convenient option for busy mornings or lazy brunches.
Suitable for Various Diets: This recipe is naturally gluten-free and low-carb, making it suitable for those following specific dietary requirements.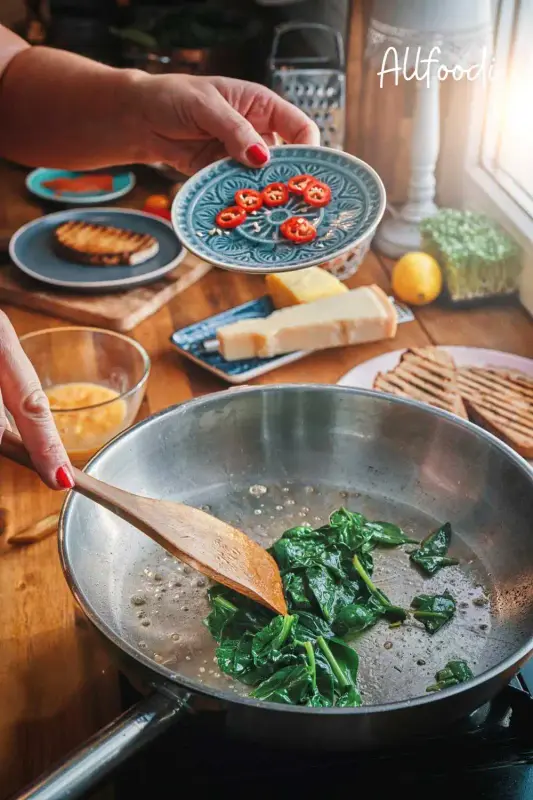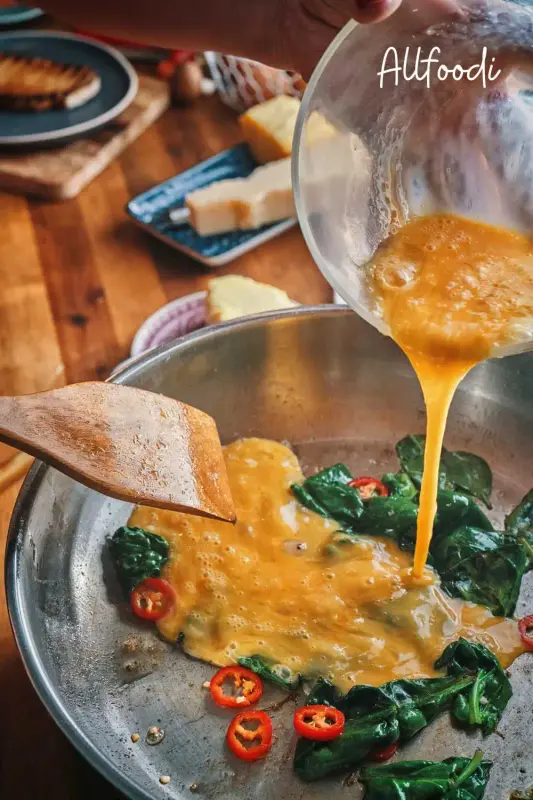 Expert Tips from the Chef:
Fresh Spinach Selection: Opt for fresh, vibrant spinach leaves with no signs of wilting or yellowing. These will ensure a delightful texture and flavor in your omelet.
Preparing the Spinach: Before adding spinach to your omelet, ensure that it is thoroughly washed and excess water is removed. This prevents a watery omelet and ensures better incorporation of flavors.
Don't Overcook the Spinach: Add the spinach to the omelet just a minute or two before it is cooked through to retain its vibrant green color and maintain its nutritional value.
Experiment with Seasonings: Enhance the flavor of your spinach omelet by experimenting with different seasonings such as garlic powder, paprika, or dried herbs like thyme or basil.
Creative Additions: Feel free to add your favorite cheese, such as feta or goat cheese, to bring a creamy and tangy element to your omelet. Chopped mushrooms or caramelized onions can also be delightful additions.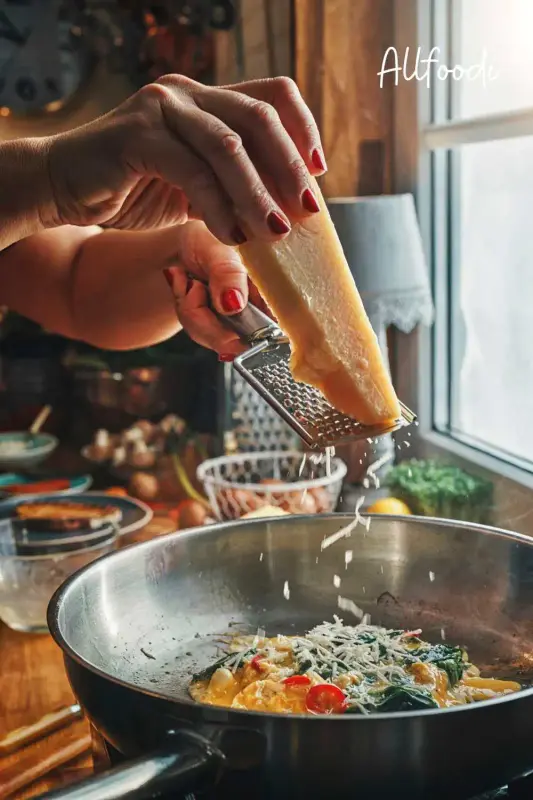 Serving Spinach Omelette:
Now that your spinach omelet is ready, it's time to savor its deliciousness. Here are a few serving suggestions:
Enjoy it as a standalone breakfast or brunch dish alongside a slice of crusty bread or a side salad.
Pair it with a fresh fruit salad or sliced avocados for a well-rounded meal.
Serve it as a filling in a warm tortilla or wrap for a portable and nutritious on-the-go option.
Storage Instructions:
If you have any leftovers or want to prepare the omelet in advance, here's how you can store it:
Allow the spinach omelet to cool completely before refrigerating.
Place it in an airtight container or wrap it tightly with plastic wrap to prevent moisture and odors from seeping in.
Store the omelet in the refrigerator for up to 2 days.
To reheat, gently warm it in a skillet over low heat until heated through.
The Recipe:
Now let's dive into the step-by-step process of creating a mouthwatering spinach omelet.
FAQ's:
Can I use frozen spinach instead of fresh spinach?
While fresh spinach is recommended for the best flavor and texture, you can use frozen spinach as a substitute. Thaw and drain the frozen spinach thoroughly before incorporating it into the omelet.
Can I make a spinach omelet without eggs?
Absolutely! If you prefer a vegan or egg-free option, you can use tofu or chickpea flour as a substitute for eggs in your spinach omelet. Adjust the seasonings and cooking time accordingly.
Can I make a larger batch of spinach omelets?
Yes, you can easily scale up the recipe to serve more people. Simply multiply the ingredients according to the desired number of servings and adjust the cooking time accordingly.
Summary
Reviewer
Review Date
Reviewed Item
Author Rating
Recipe Name