Easy Bhindi Masala Recipe
Bhindi Masala is a delightful and flavorful North Indian dish made with okra, onions, tomatoes, and a blend of spices. This simple and healthy recipe is a staple in many Indian households and is often served as a side dish in restaurants and dhabas. The first step to making this dish is to ensure that the okra is cooked properly to avoid a slimy texture. By wiping dry the okra and stir-frying it in oil until the sticky substance disappears, you can achieve perfectly cooked bhindi with no slime. Once the okra is prepared, it is added to a flavorful onion tomato masala and simmered to absorb all the delicious flavors. The Bhindi Masala recipe pairs well with rice, chapati, or roti, making it a wholesome and satisfying meal. With its rich nutritional profile and benefits such as aiding digestion, managing weight, and providing essential vitamins and minerals, Bhindi Masala is not only delicious but also a nutritious addition to your menu.
Bhindi Masala, also known as Okra Masala, is a flavorful and healthy Indian, USA dish made with okra, onions, tomatoes, and a blend of aromatic spices. This semi-dry curry is a staple in Indian households and restaurants, often served with rice, chapati, or roti. In this recipe, we will explore the process of making Bhindi Masala, highlighting the delicious flavors and nutritional benefits of this popular dish.
Chief Tips for Bhindi Masala:
Choosing the right okra: Opt for tender and young okra, as they cook faster and have a milder taste. Avoid using overripe or large okra, as they can be tough and fibrous.
Dry the okra thoroughly: Before chopping the okra, ensure that it is completely dry. Moisture can contribute to sliminess while cooking, so use a clean cloth or kitchen tissue to wipe off any traces of water.
Sauté the okra to reduce slime: Stir-fry the chopped okra in oil until the sticky substance breaks down and vanishes. This step is crucial in achieving non-slimy okra for the Bhindi Masala.
Cook the masala until thick: Saute the onion, tomato, and spice mixture until it becomes thick, well-cooked, and aromatic. This helps to bring out the flavors and ensures a rich, flavorful gravy for the Bhindi Masala.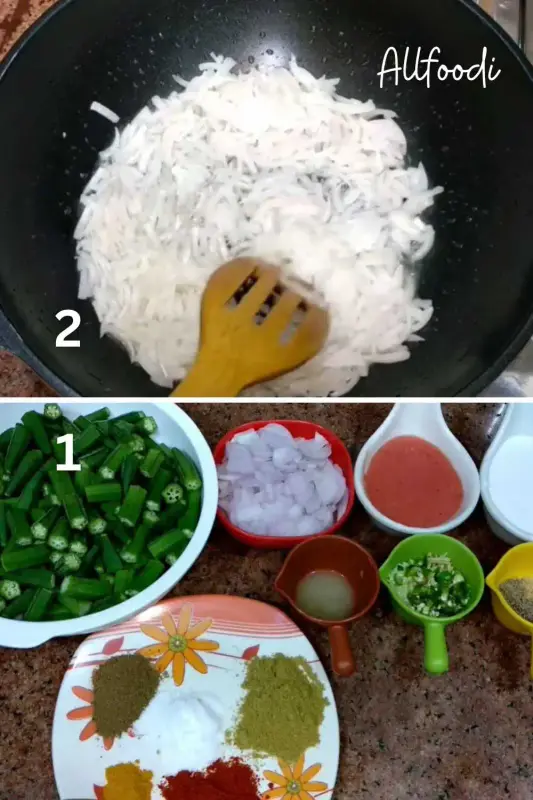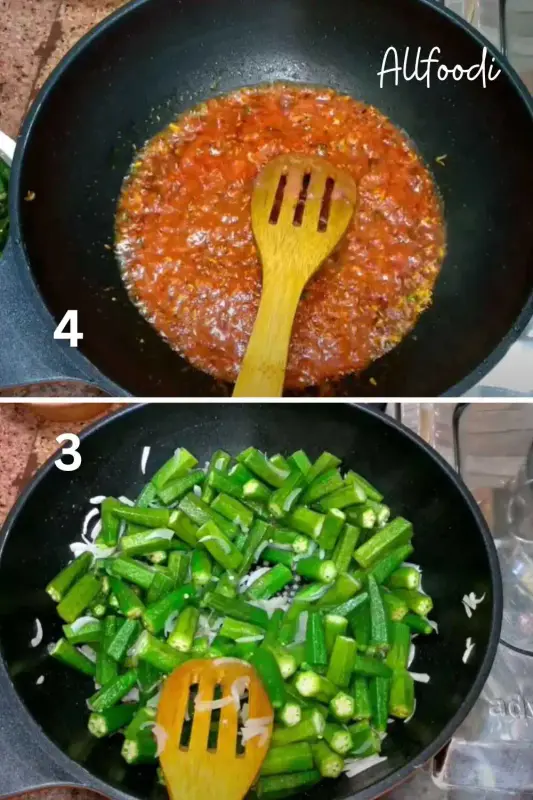 How to Make Bhindi Masala:
1

Rinse 250 grams of okra (bhindi) under running water and dry them thoroughly. Remove the ends and chop the okra into ¾ inch pieces.

2

Heat 1-2 tablespoons of oil in a pan and sauté the chopped okra for 5-7 minutes on medium heat until partially cooked. Transfer the sautéed okra to a plate.

3

Add more oil to the same pan and temper with cumin seeds. Then sauté onions and green chili until golden brown.

4

Add ginger-garlic paste and sauté for another minute until fragrant. Stir in chopped tomatoes and salt, cooking until the tomatoes turn mushy.

5

Add red chili powder, turmeric, garam masala, and coriander powder to the masala. Cook until the mixture thickens and the spices are well combined.

6

Pour water into the masala and mix well. Add crushed kasuri methi for an additional flavor.

7

Add the sautéed okra to the masala and mix everything together. Cover and cook on low to medium heat until the okra becomes tender.

8

For a semi-dry curry, sauté for an additional 2-3 minutes to remove excess moisture. Be careful not to overcook, as it can make the okra soggy.

9

Garnish with fresh coriander leaves (optional) and serve the Bhindi Masala with plain rice, roti, or chapati.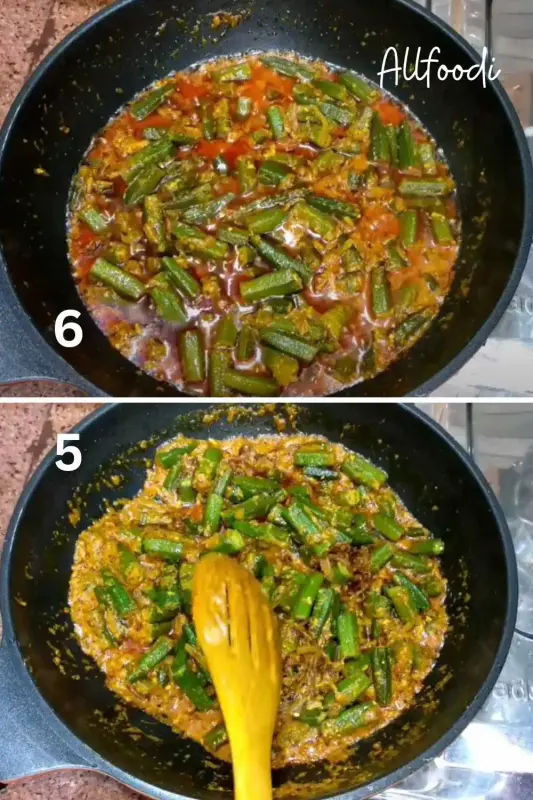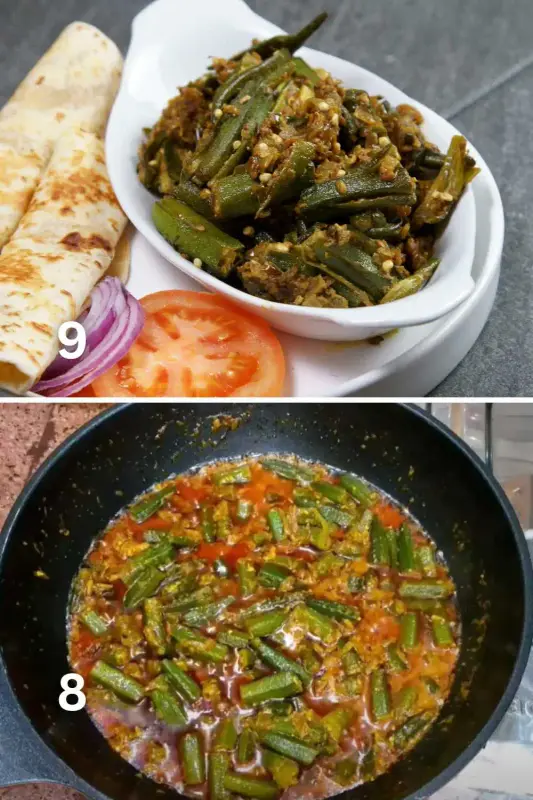 Benefits of Bhindi:
Feeling Full and Satisfied: Okra's high dietary fiber content helps keep you feeling full for longer, reducing the urge for unhealthy snacking.
Aiding Digestion: The abundant fiber in okra promotes a healthy digestive tract, supporting regularity and weight management.
Low-Calorie Delight: Okra is a low-calorie vegetable, allowing you to enjoy a guilt-free indulgence without compromising your weight loss goals.
Diuretic Properties: Okra acts as a natural diuretic, aiding the body's detoxification process and helping to combat bloating and reduce excess water weight.
Cholesterol Control: Okra contains pectin, which has a cholesterol-lowering effect, promoting a healthy heart and cardiovascular function.
Cancer-Fighting Potential: Okra is rich in antioxidants that help protect cells from cancer-causing free radicals, potentially reducing the risk of certain cancers.
Immune System Boost: The healthy fiber in okra supports and nurtures the immune system, strengthening defenses against viruses and infections.
Fertility and Healthy Pregnancy: Okra is a good source of folic acid, which is important for preconception diets and supports maternal and fetal health during pregnancy.
Stabilizing Blood Sugar Levels: Okra has been shown to slow down sugar absorption, potentially helping to stabilize blood sugar levels and prevent diabetes.
Kidney Disease Prevention: Scientific studies have suggested that okra may have a positive impact on kidney health, potentially reducing the risk of kidney damage.
Summary
Reviewer
Review Date
Reviewed Item
Easy Bhindi Masala Recipe
Author Rating
Recipe Name
Easy Bhindi Masala Recipe